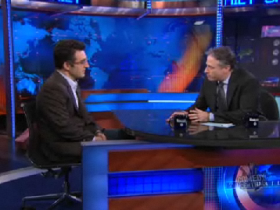 Maziar Bahari is free, finally, after 118 days in an Iranian prison, on trumped-up charges of being a spy for the Mossad, CIA, MI6, and Newsweek — charges that were leveled at him, he says, specifically to fit him into the false narrative being spun by Iran's leadership to its people following the post-election uprising last June. Bahari recounted the experience in minute, fascinating detail in Newsweek last week, and has subsequently appeared on 60 Minutes, Charlie Rose and, last night, the Daily Show. Only one of those shows were to blame for his incarceration.
Yes, incredibly, Bahari's participation in the Daily Show's spoofy special reports from Iran last June were specifically held up by Bahari's captors as evidence of his spying activities. Which made Bahari's visit with Jon Stewart last night extra-interesting (or, return to the scene of the non-crime, if you will), especially in the opening: "You were imprisoned in Iran…" "Yes. Because of you."
Stewart and Bahari hit on something really smart, I think, in this interview: Evil is stupid. See below:
Stewart: We hear so much about the banality of evil, but so little about the stupidity of evil.

Bahari: Evil is stupid…you know, whenever you take anything to the extremes you see the humor in it and you see the stupidity in it. I think what the Iranian government did, and what my interrogator as the representative of the Iranian government was doing to me, was stupid and funny at the same time. It was not funny while I was in the interrogation room (laugh) blindfolded in a dark room, being beaten – that was not funny. But when I ws going back to my cell – I had to laugh. That was my defense mechanism.

Stewart: They say comedy is imprisonment plus time.
The interview was terrific, not only because Stewart is so very good at hitting the tension-relief punchlines but because it gave Bahari 8 minutes to talk about this stuff. In a sea of coverage dominated by White House party crashers, Glenn Beck, Sarah Palin and the kids from Twilight, what happened in Iran back in June has receded somewhat from the headlines (though with end-of-year coverage, there has been a resurgence in that topic). In any case, we have it below and it is definitely worth a watch — especially for what the Iranian's apparently think of New Jersey (hint: lots of sex, no Jews).
In the meantime, though, Bahari's Newsweek article is an amazing, detail-rich document of what is happening in that country (hint: much less fun sounding than New Jersey), as well as how he was able to figure out what was happening to him, and who was doing it (the details about how why his captors smelled like rosewater, and the significance of their footwear, are fascinating). But then there's this:
I would later discover that I had been picked up by the intelligence division of the Islamic Revolutionary Guard Corps, or IRGC. Before the June election, this unit of the Guards was little known; whenever journalists and intellectuals ran afoul of the authorities they were usually questioned by the official Ministry of Intelligence. But the IRGC, which reports directly to Khamenei, had been growing dramatically more powerful. Many suspect that the Guards rigged the election. Certainly they led the crackdown that followed….[T]he Guards are exacerbating the Islamic Republic's worst instincts, its insecurity and deep suspiciousness. As world powers try to engage Tehran to mitigate the threat of its nuclear program, it's critical that they understand this mindset and the role the IRGC now plays within the Iranian system.
Scary stuff. Less punchline-filled but no less fascinating was Bahari's interview with Charlie Rose on Friday evening. All are worth your time and attention, especially if you want to learn more about what is brewing over in Iran. Here's the video from last night's Daily Show:
118 Days In Hell [Newsweek]
Maziar Bahari on 60 Minutes [CBS]
Transcript: Maziar Bahari on 60 Minutes [CBS]
Maziar Bahari on Charlie Rose [Charlie Rose]
Newsweek Reporter Suspected Of Being Spy Over Daily Show Vid [Mediaite]
Related:
Superhero Journalists – Like Newsweek's Maziar Bahari [Mediaite]
Have a tip we should know? tips@mediaite.com