McConnell Office Fires Back at Conservative Group for 'Profoundly Stupid' Logic on Filibuster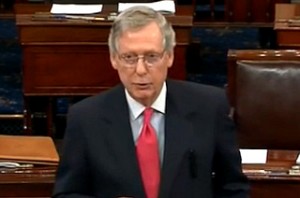 Most of the conservative anger over the "nuclear option" activated by Harry Reid on Thursday has been reserved for Democrats, but there's been some in-fighting as well, with prominent voices in the conservative media firing shots at the Republican establishment. Now the office of Senator Mitch McConnell lit the tinderbox with a potshot at the Senate Conservatives Fund for their "profoundly stupid" logic on the nuclear fallout.


McConnell struck a surprised tone yesterday in his reaction to the Democrats' "power grab," and pulled no punished in slamming the opposition, but the Senate Conservatives Fund accused McConnell of being a lapdog to Reid's agenda.
Harry Reid did this because he knows Republican Leader Mitch McConnell (R-KY) will let him get away with it.

The only way to deter a nuclear attack is to make it clear that the response will be equally devastating. Unfortunately, weakness is the only message Mitch McConnell has sent the Democrats on this issue.
The group is backing Matt Bevin as a primary challenger for McConnell's Senate seat next year. McConnell has previously trashed the Senate Conservatives Fund, and so his office naturally didn't have any kind words for the group this time around.
"That argument is so profoundly stupid that it is hard to fully ascertain whether their deficiency is in math or logic," said McConnell campaign communications director Allison Moore. "It does however help further illuminate why SCF is so bad at what they do."
So perhaps this is the real nuclear fallout after all…
[h/t Daily Caller]
[photo via screengrab]
— —
Follow Josh Feldman on Twitter: @feldmaniac
Have a tip we should know? tips@mediaite.com
Josh Feldman - Senior Editor