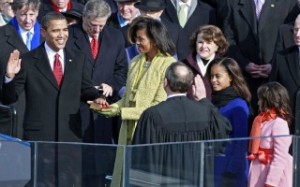 According to a report in POLITICO, the White House Correspondents Association is troubled enough by the signs that the White House is considering closing President Barack Obama's second inauguration on January 20 to the press that they have urged the White House to keep the swearing-in public.

Fox News Channel's chief White House correspondent and president of the White House Correspondents Association, Ed Henry, told POLITICO that he Association hopes the Obama administration does not close the inaugural to the press.
Mindful of the historic nature of this occasion, we expect the White House will continue the long tradition of opening the President's official swearing-in to full press access, and we as an organization are looking forward to working with the administration to make that happen.
Their fears were stoked by an early meeting of the Presidential Inauguration Committee which indicated the swearing-in would be closed to reporters and cameras save for an official White House photographer. A subsequent PIC memo referring to the swearing-in as a "private" ceremony confirmed the press' fears.
However, a White House spokesperson told POLTICO's Dylan Byers that there is no truth that Obama's inauguration would be closed to the White House press corps.
"There is no truth to any rumors that decisions have been made about media access to this year's Inaugural events," Rachel Racusen, a spokesperson for the PIC, told POLITICO. "The 2013 Presidential Inaugural Committee announced its launch yesterday and is just beginning its planning. Any announcements about media access and credentials will be made in the coming weeks."
Read the full report via POLITICO
> >Follow Noah Rothman (@Noah_C_Rothman) on Twitter
Have a tip we should know? tips@mediaite.com