MediaBuzz, Reliable Sources Both Take on NY Times' 'Outrageous,' 'Perplexing' Stealth-Edit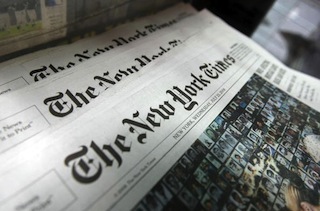 The panels of the two major media criticism cable shows, CNN's Reliable Sources and Fox News' MediaBuzz, both took on The New York Times after the paper removed an embarrassing quote from Barack Obama without a correction and then issued an unconvincing explanation for the edit.
On Reliable Sources, NPR's Eric Deggans took the Times at their word that the paragraph was cut for space concerns, but called the decision a stupid one. "To take it out of the story for space concerns raises additional questions about the sensibility of their editors… if they're willing to admit to that kind of journalistic error, I guess we have to take them at their word."
Host Brian Stelter (himself a former Times employee) was mostly concerned about the stealthiness of the edit, and pointed out that the story was longer after it was supposedly edited for space reasons. "If you're going to change the story–the story in print was longer but they trimmed out the cable news paragraph– you got to be transparent about it, it can't happen stealthily."
"To take it out and have David Ignatius of The Washington Post who was there apparently write the same piece, then it really looks like 'What happened? Did the White House complain and ask The Times to take it out?'" agreed American University professor Jane Hall.
But it was The Baltimore Sun's David Zurawik who was most critical. "I think I counted 18 paragraphs in that story, and there's at least 15 of them that I would have cut before that one… This is outrageous, that The New York Times [claims] 'Oh, somebody cut it on the desk, we don't know how that happened.' That's not an explanation."
"Does this feel like an effort to protect the president?" host Howard Kurtz asked on MediaBuzz.
"It really does," said conservative commentator Mercedes Schlapp, "Especially when you read The New York Times last week and they had a puff piece about him doing a reality show with a bear [Editor's note: Uh, we think she's talking about Bear Grylls]. My guess is the White House called The New York Times said 'Take this out, that's not true.'"
"We don't know what happened, but The New York Times probably should have appended a comment explaining what happened…" The Daily Beast's Betsy Woodruff said. "The fact that they just disappeared it undermines this story."
Kurtz, citing Mediaite by name, noted that the piece's headline was also edited to be more favorable to Obama. "It is perplexing that they have not explained this, either the headline or the editing," The Atlantic's Molly Ball. "There needs to be a correction a or a clarification if there was a reason behind it."
Watch above, via Fox News and CNN.
[Image via screengrab]
——
>>Follow Alex Griswold (@HashtagGriswold) on Twitter
Have a tip we should know? tips@mediaite.com