Mediaite's Tommy Christopher Talks Wisconsin Protest Coverage With S.E. Cupp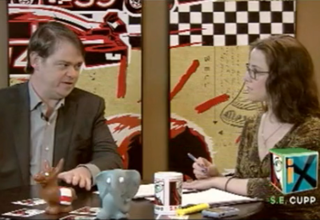 While protests have become the latest global media trend, it is with those closest to home, in Wisconsin, that they have the most wiggle room in their coverage (and spin). Mediaite Political Editor and White House Correspondent Tommy Christopher visited S.E. Cupp on her new program today to evaluate media bias in the Wisconsin story, from MSNBC's budget analysis to Fox News' claims doctors are giving protesters a likely illegal hand.
Cupp invited Christopher to her new Mercury Radio Arts show (Glenn Beck Insiders can watch here) to evaluate the media's coverage of the claims network by network, beginning with Rachel Maddow's ultimately erroneous claim that Wisconsin's economy was so good that the state was actually heading for a budget surplus. Christopher expressed hope (and confidence) that Maddow would correct herself, saddened that "the one mistake that she made undercuts an excellent segment" and adding that the "memo she was quoting," to her credit, "was confusingly put together."
They also discussed the reported fraud committed by doctors on the scene in Madison, allegedly hanging out medical excuse notes to protesters to help them keep their wages through the protest period. Cupp noted that "if that's true, that's a huge problem," and Fox News was right in pointing that out in similar words, though Christopher was skeptical: "the only person Fox shows getting a doctor's note is one of the Tea Party protesters." On the other side of the spectrum, however, Christopher ceded that CNN "should not be saying that the doctors are helping out the teachers" if the alleged fraud is true.
Christopher's full segment with Cupp below:

Have a tip we should know? [email protected]
---