Michael Steele Compares Himself To Obama, Says Race Behind Calls For Resignation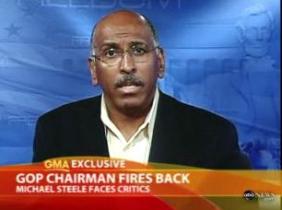 When this week's latest "remarkable" RNC scandal broke this week – introducing bondage-themed nightclubs into the political discourse – the media and late night shows had a field day.
But many brought up how RNC Chairman Michael Steele could still have his job (since the scandal was hardly his first recently). On ABC's GMA this morning, race was introduced into the discussion.
George Stephanopoulos set the tone of the interview by peppering Steel with questions about how many consider him to personally be a liability – and some think he should no longer be RNC Chairman "I hear my donors, I hear our base out there I hear the leadership," he said. "We're taking steps to make sure that we're even more fiscally conservative in our spending."
But then came 'the question' – the one you'll see replayed all day today on cable news. Stephanopoulos asked a viewer question from "Myron," who wanted to know if Steele feels "that as an African American, you have a slimmer margin for error than another Chairman would."
"The honest answer is yes," he said. "Why is that?" asked Stephanopoulos. And here was Steele's answer:
It just is. Barack Obama has a slimmer margin. A lot of folks do. It means a different role for me to play and others to play and that's just the reality of it. But you take that as a part of the nature of it. It's more because you're not someone they know. I'm not a Washington insider even though I grew up near D.C. My view on politics is much more grassroots-oriented, it's not old boy network-oriented. So I tend to, you know, come at it a little bit stronger, a little bit more streetwise, if you will. That's rubbed some feathers the wrong way.
There's a lot here – the comparisons to Pres. Obama, the idea Steele is being "more streetwise" in his Chairman tactics – but many will react the opposite way, as MSNBC's Joe Scarborough did this morning on Morning Joe: "When I talk to senior Republicans in Washington and I ask, 'Why is Michael Steele still on the job?' they laugh. and say, 'What, you think we're going to fire an African American in the age of obama? are you an idiot?'"
Will this be the end of the beginning of the end of Steele's chairmanship? But at this point, it may be more important to ask what Steele might say on the way out.
Here's the key part of the interview:


—–
» Follow Steve Krakauer on Twitter
Have a tip we should know? tips@mediaite.com