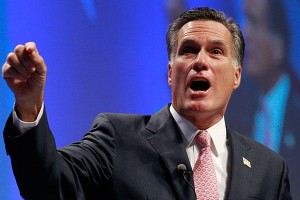 Call it a preemptive strike, if you will.
Yesterday, in anticipation of today's presidential announcement by Mitt Romney, Western Representation PAC announced it would be launching StopRomney.org, a movement for conservatives opposed to the former Massachusetts governor's 2012 candidacy.
The group's official description:
Conservatives in America deserve to feel passionately about their Presidential nominee, and Mitt Romney would NOT be that candidate!

On issues from gun rights to gay rights, abortion to immigration, and even from healthcare to whether or not to wear a tie, Romney has changed his position whenever it seems politically expedient.

This country faces challenging times, and we need a President who will say what he means and do what's best for the country, not someone who will say what he thinks we want to hear and do what he thinks is best for his political career.

We need real leadership. We need to Stop Romney!
The PAC is chaired by Joe Miller, who you'll remember lost to Lisa Murkowski in last year's contentious Alaska Senate race. In WesternPAC's official press release, Miller says that Tea Party voters want a "consistent constitutional conservative" to support, and Romney "has flipped more than John Kerry flopped."
WesternPAC Executive Director Bryan Shroyer clarifies that the PAC has not officially thrown its weight behind any of the candidates yet:
"As of right now, we're not making an endorsement on who should be the Republican nominee… We just know that if Mitt Romney wins the nomination, we'll be looking at a repeat of Bob Dole's feckless 1996 campaign and a landslide defeat."
Romney was slightly upstaged in New Hampshire today (though not intentionally so) by Sarah Palin on her One Nation bus tour. Palin indirectly criticized Romney's previous positions on health care when she made it clear she did not see any difference between federal and state mandates, as Romney has argued in the past.
"It's tough for a lot of us independent Americans to accept [the mandate] because we have great faith in the private sector and our own families and our own business men and women making decisions for ourselves, not any level of government telling us what to do."
The Stop Romney Facebook page was much more direct in criticizing Romney's health care position earlier today.
Romney's call for a complete repeal of ObamaCare rings hollow, considering it's based in large part on RomneyCare…
Right now, the StopRomney.org URL redirects to the Facebook page, but it is expected that as the months progress, the group will build up a real website and garner more support from hardline conservatives who don't want a candidate with a history of switching positions on the issues most important to primary voters.
Have a tip we should know? tips@mediaite.com
Josh Feldman - Senior Editor