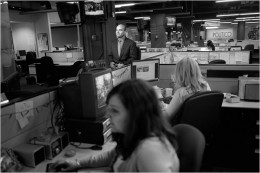 I don't know if this qualifies as a conflict of interest so meta it cancels itself out, or just the height of self-branding, but in his "most powerful" Playbook column this morning 'the man the White House wakes up to' Politico's Mike Allen scooped the New York Times by releasing nuggets from a feature they are doing on…Mike Allen in this weekend's Magazine. Yes. Here's what ran in Playbook:
FIRST LOOK — "BLACKBERRY BREAKFAST" — N.Y. Times national political reporter Mark Leibovich's 8,100-word cover story of Sunday's New York Times Magazine, "THE MAN THE WHITE HOUSE WAKES UP TO: Mike Allen and the Politico-ization of Washington … The Insider's Insider": "Playbook has become the principal early-morning document for an elite set of political and news-media thrivers and strivers. … [M]any in Washington … [describe] Allen with some variation on 'the most powerful' or 'important' journalist in the capital. … Allen's 'data points' … have become the cheat sheet of record for a time-starved city in which the power-and-information hierarchy has been upended. … 'He is part mascot and part sleepless narrator of our town,' Tracy Sefl … told me by e-mail. … 'Washington narratives and impressions are no longer shaped by the grand pronouncements of big news organizations,' said Allen … 'The smartest people in politics give us the kindling, and we light the fire.' … … Playbook has become the political-media equivalent of those food pills that futurists envision will replace meals. … [T]he Playbook community … includes a former president, two former vice presidents, C.E.O.'s and network anchors … If … Axelrod can't read the papers before rushing off to the White House, he will scroll through Playbook during his six-block ride to work … [Leibo:] I read Playbook every morning on my BlackBerry, usually while my copies of The New York Times and The Washington Post are in plastic bags. … [John] Harris readily acknowledges that Politico is 'not for everybody,' and [Jim] VandeHei said they have begun focusing their recruiting on New York, because 'the city produces reporters who are fearless, fast and ruthlessly competitive.'"
The story, by Mark Leibovitch, just went live on the Internet and one suspects the less flattering aspects of it may not have made it to Playbook this am [update: nope, nothing terrible]. Allen, who does wield enormous power in Washington, has drawn fire in the past for sometimes being little more than a mouthpiece to pols (and/or Dick Cheney) who want to get their arguments out there without having to answer any questions. Will update once I have read.
UPDATE: From the piece:
[Politico] wants to "win" every news cycle by being first with a morsel of information, whether or not the morsel proves relevant, or even correct, in the long run — and whether the long run proves to be measured in days, hours or minutes. [Yes.]
Allen — who is childless and owns no cars or real estate — perpetually picks up meal and beverage tabs for his friend-sources (the dominant hybrid around Mikey). He kisses women's hands and thanks you so much for coming, even though the party is never at his home, which not even his closest friends have seen. It is as if Mikey is the host of one big party, and by showing up anywhere in Washington, you have served the Playbook community and are deserving of the impresario's thanks (or "Hat Tip" in Playbookese).
Money quote (why this profile was written): "As a practical matter, here is how Allen's 10 stories influence the influentials. Cable bookers, reporters and editors read Playbook obsessively, and it's easy to pinpoint exactly how an item can spark copycat coverage that can drive a story. Items become segment pieces on "Morning Joe," the MSNBC program, where there are 10 Politico Playbook segments each week, more than half of them featuring Allen. This incites other cable hits, many featuring Politico reporters, who collectively appear on television about 125 times a week. There are subsequent links to Politico stories on The Drudge Report, The Huffington Post and other Web aggregators that newspaper assigning editors and network news producers check regularly. "Washington narratives and impressions are no longer shaped by the grand pronouncements of big news organizations," said Allen, a former reporter for three of them — The Washington Post, The New York Times and Time magazine. "The smartest people in politics give us the kindling, and we light the fire."
While most Playbook subscribers live around Washington, significant numbers work on Wall Street, in state capitals and at news and entertainment companies on both coasts. Major retailers (Starbucks) and obscure lobbies (Catfish Farmers of America) pay $15,000 a week to advertise in Playbook, a figure that is expected to rise.
UM: "Allen is known as a legendary hoarder and pack rat. At The Post, enormous piles of yellowing papers, clothes, bags and detritus leaned ominously above his cubicle. While reporters are rarely neat freaks (I remember hearing rumors about Nixon-era sandwiches that are still being excavated from David Broder's office), Allen's work areas have been egregious. It got so bad at Time, where Allen was given his own office, that it became difficult to even open the door. His chair was raised at a crooked angle, as if it were not touching the floor, and the debris rose so high in some places that it blocked a portion of light coming through a picture window. Colleagues took pictures, as if the place were an archaeological site. It was disturbing to those who cared about Allen, especially after a photo of the office in a seemingly uninhabitable state made the rounds of the press corps and George W. Bush's White House."
Have a tip we should know? tips@mediaite.com