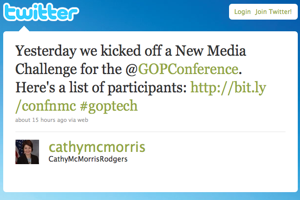 In an attempt to get in on all that social networking has to offer, House Republicans are staging their first Congressional New Media Challenge, a competition modeled after NCAA March Madness in which representatives vie for the largest number of Twitter, Facebook, and YouTube followers. Round one, on Twitter, begins today. Time to fire up the Congressional Blackberries!
The competition is in anticipation of the fall midterm elections, forcing representatives to become more active online and engage more directly with constituents. The brainchild of Congresswoman Cathy McMorris Rodgers (R-WA), vice chair of the group, the idea is to get representatives preemptively campaigning by making an effort to engage with new media, and while they're at it get voters excited about their representatives through interacting online. Unfortunately, not all House Republicans are participating– noticeably absent is web-friendly Texas Congressman Ron Paul— but here's the list of competitors on Twitter, and our top five picks to take the title (and an as-yet-determined prize):
Rep. Aaron Schock (IL): TMZ pin-up boy and HuffPo's "Hottest Freshman Congressman" has only been in the House a year, but has already evoked the anger of Rachel Maddow on his opposition to the stimulus bill and still has another year to stand out in his party.
Rep. Ileana Ros-Lehtinen (FL): Cuban-American Congresswoman whose claim to fame is hanging up on both Rahm Emanuel and Barack Obama— twice— because she mistook them for Enrique Santos and Joe Ferrero, the morning zoo DJs that prank-called Fidel Castro.
Rep. Michele Bachmann (MN): She's loud, passionate, and much more popular beyond her district than many of her competitors. Only downside is that she may have peaked in Twitter followers long ago, since she's been a national figure for so long.
Rep. Randy Neugebauer (TX): Much like Rep. Joe Wilson (who, sadly, is not playing), Neugebauer made a name for himself after shouting "baby killer!" at Bart Stupak when he finally gave in and voted for the health care bill. Other than this type of newsmaking behavior, though, Neugebauer has a clean slate with the public.
Rep. Jason Chaffetz (UT): Chaffetz is another young competitor (it seems most of those playing the game are younger), but possibly the most conservative of the bunch. Chaffetz was one of the few Congressmen to oppose Washington, DC's passing of gay marriage rights. He also recently came out against representation for DC, as he considered it unconstitutional.
The competition is anyone's game, but depending on what voters are counting as the most important factor, each of these five has as good as chance as any. If being the most far-right counts, Chaffetz and Neugebauer have the advantage. If it's who can garner the most attention nationwide, Bachmann wins in a landslide. But because this is the internet and sex sells, we're betting on Reps. Ros-Lehtinen (which you can watch, via The Colbert Report, perform a striptease here) and Schock, for his TMZ portfolio, to take the prize. After Friday, though, competitors will be in brackets, so predicting the winners will be at least in part determined by the proximity to difficult competition.
Have a tip we should know? tips@mediaite.com