Mississippi Gov. Haley Barbour's Wife 'Horrified' By Potential 2012 Candidacy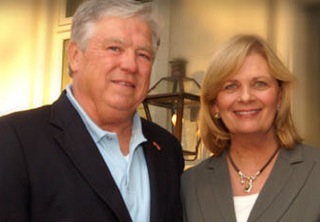 Well, this is reassuring. In an interview with local CNN affiliate WLOX, Marsha Barbour, the wife of Mississippi governor Haley Barbour, described her position on whispers of a potential presidential run for her husband as "horrified" and called the prospect "overwhelming," especially since his political career has already been a "sacrifice."
While Mississippi's First Lady said in the interview she was fully prepared to support her husband, the rest of her statements don't make her sound too keen on the idea of making a run for the top job, or, worse, actually winning:
The wife of Mississippi Gov. Haley Barbour says she is "horrified" that her husband is seriously considering a bid for the presidency.

In an interview with CNN affiliate WLOX in Biloxi, Marsha Barbour admitted the "overwhelming" task of a presidential run is something she may not quite be ready for.

"It's been a lot to be first lady of the state of Mississippi and this would be 50 times bigger," she said. "It's a huge sacrifice for a family to make." […]

But Marsha Barbour revealed she is wary of a 10-year commitment she believes would accompany a presidential run – and, presumably, two terms in office – during "the last part of our productive lives."
The sacrifices of touring the country and taking on a campaign to be the most powerful person in the world are nothing to scoff at, though this sort of candor from potential candidates' families in public is rather rare. In the interview, Marsha Barbour noted that she was doing plenty of praying on the matter and would ultimately support her husband despite her hesitation, but while it's too early to tell, one can expect this to factor into Barbour's decision-making process before announcing whether he will run.
Have a tip we should know? tips@mediaite.com