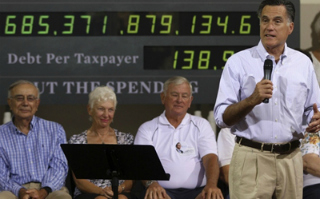 Business Insider reports that on Wednesday in St. Petersburg, Florida, presumptive Republican nominee Mitt Romney began campaigning with an interesting prop behind him: a large, real-time debt clock, tracking the American debt and each individual taxpayer's share of it.
During his speech, with the debt clock ticking away behind him, Romney rightfully blamed both parties for our rapidly-growing national debt. It's a serious problem that neither party seems willing to address.
But this prop is obnoxious. It is incredibly dishonest for Romney to scare people about the debt when, in reality, he has absolutely no serious plan to cut spending and reduce the national debt.
Liberal readers: You can't solve the debt problem simply by taxing millionaires; it's basic mathematics. You have to cut something. Conservative readers: you can't just cut the non-military spending you don't like and solve the debt problem.
So why don't we start with cutting military spending? Okay, great.
Defense spending accounts for a whopping 20% of the federal budget and almost never sees serious cuts despite being mind-bogglingly wasteful. Yet Mitt Romney refuses to touch the military. He has fear-mongered over what he characterizes as "massive cuts," which are actually just reductions in planned spending increases.
And, of course, Romney won't go anywhere near the entitlements that consume a humongous portion of the budget. Business Insider confirms Romney's spending cuts-averseness (emphasis mine):
In addition to voicing his concerns over fiscal matters, the likely Republican nominee spoke about plans to increase military spending. Speaking to the senior-heavy audience, however, he did not mention any proposal to reform entitlements.
Right. So when you see that debt clock ticking away behind Romney this summer, remember that it's not just his opponent who will have nothing to do with reversing it.
Have a tip we should know? tips@mediaite.com