MSNBC's Chris Hayes: 'Impossibility Of Any Symmetry Between Fox [News] And MSNBC'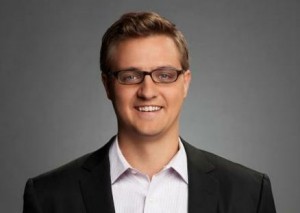 MSNBC's Chris Hayes sat down with Talking Points Memo's David Taintor for a Q&A that focused on Hayes' take on cable news. Hayes said two things he wants to accomplish on the show are providing a learning experience for viewers and engaging in fair public discourse while not being "falsely balanced or fakely neutral." When asked about his network, MSNBC, and its cable news rival Fox News, Hayes argued that there is no fair way to say that the networks are symmetrical because of the differences in outlook and management.
RELATED: MSNBC Continues Attack On Fox News: "FOX Isn't News It's A Political Operation"
Hayes said that while Fox News is run by a "lifetime, hard-right, conservative ideologue and Republican partisan" (Roger Ailes), MSNBC is run by "someone who worked in TV." He explained in clear terms what he finds objectionable about Fox's business model.
The first thing that I think is important is transparency. If you found out that a mainstream news anchor at a major network was secretly emailing with a political operative, scheming on how to best present their case, you would be furious. The reason is there's fundamentally a fraud being done, there's a betrayal. Someone's saying, "I'm a neutral, good-faith arbiter of these things, when I'm not. I actually have skin in the game.' That's the greatest betrayal. That's the most objectionable thing about Fox, is its claims to neutrality. The whole 'fair and balanced' thing. Because that is fundamentally a misleading way of advertising themselves. Fox is a conservative network. It's more than that. It's a partisan, Republican network. And I think a multiplicity of voices is great. So let there be a conservative network or a Republican identified network.
You can read the full interview here.
—–
Follow Josh Feldman on Twitter: @feldmaniac
Have a tip we should know? tips@mediaite.com
Josh Feldman - Senior Editor