Mystery: No One Knows Why Helen Thomas' White House Briefing Room Nameplate Is Missing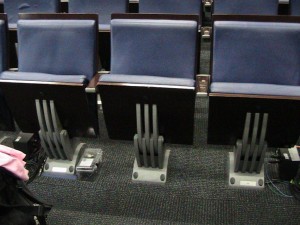 It has been a little over two months since Helen Thomas' whirlwind retirement, and while the final days of her career were filled with controversy, she remains a historic figure in journalism. That's why I suggested, several months ago, that the nameplate from her front row center seat be enshrined on a plaque, either in the briefing room or at the WHCA.
On Monday, I noticed that the nameplate was gone, and in trying to find out what would be done with it, discovered that it is missing, that no one knows what happened to it.
Sources within the White House and the White House Correspondents Association don't know where the nameplate is, and only found out it was missing when I asked what the plans for it were. A WHCA source told me, "I have a sick feeling someone just pried it off of there."
I also spoke with Helen this morning, to make sure no one had taken it and given it to her, and so she wouldn't read the news elsewhere. Told the nameplate is missing, Helen said, "You're kidding. No, nobody gave it to me. Maybe they threw it in the trash."
Not likely. In the months since her retirement, Helen's seat has remained the number one attraction for visitors to the briefing room, right up there with the obligatory picture from behind Gibbs' podium. Her seat was the only one with an individual's name on it. The rest are marked by news outlet, and many were mislabeled even before the recent seating reshuffle. Her nameplate is a valuable piece of history, and it belongs either in her hands, or on public display.
Regardless of the nameplate's location, though, neither the White House nor the WHCA was considering such a display, anyway. Evidently, the plan was to give it to Helen, and let her decide what to do with it.
If you have any knowledge of the nameplate's whereabouts, email us. Hopefully, it turns up, and this important piece of history can be properly preserved. This is what it looks like: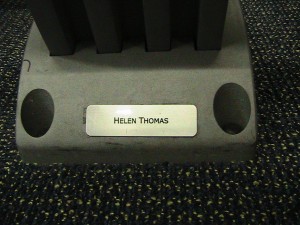 Have a tip we should know? tips@mediaite.com