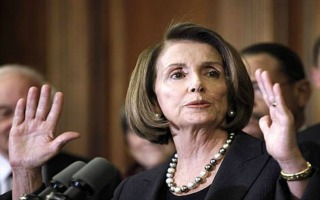 On Thursday, House Minority Leader Nancy Pelosi (D-CA) called on Republican presidential candidate Mitt Romney to release more years of tax returns, but pushed back against the notion that Congressional Representatives should be held to the same standards as presidential candidates. "When I run for president of the United States, you can hold me to that standard," Pelosi told reporters.

RELATED: Allen West Calls Nancy Pelosi 'Delusional' For Health Care Reform Comments
Pelosi did break ranks with some of her Democratic colleagues on the tax returns issue. The Minority Leader said that she thought the focus on the tax returns issue was a distraction and that Romney should be forced to reveal his positions on policy issues like the looming expiration of the Bush tax cuts.
Pelosi did say that she has released a number of previous returns and made it clear that a candidate for president should disclose as much information as possible.
Let's not be silly. This person is running for president of the United States. His party is calling on him to release his returns. It's up to him to take the consequences of not doing it, or doing it, but not to deflect to say, 'Well, if he has to do it, why doesn't everybody else have to do it?' Because everybody else isn't running for president of the United States, and that's the last thing I'm going to say about it.
On ABC News on Thursday morning, Mitt Romney's wife Ann Romney noted that the campaign does not plan on releasing any further tax documents after they release their 2011 filings.
h/t Daily Caller
> >Follow Noah Rothman (@Noah_C_Rothman) on Twitter
Have a tip we should know? tips@mediaite.com