NBC Reporter Takes Heat For Claiming Kennedy 'Negotiated' His Replacement With Trump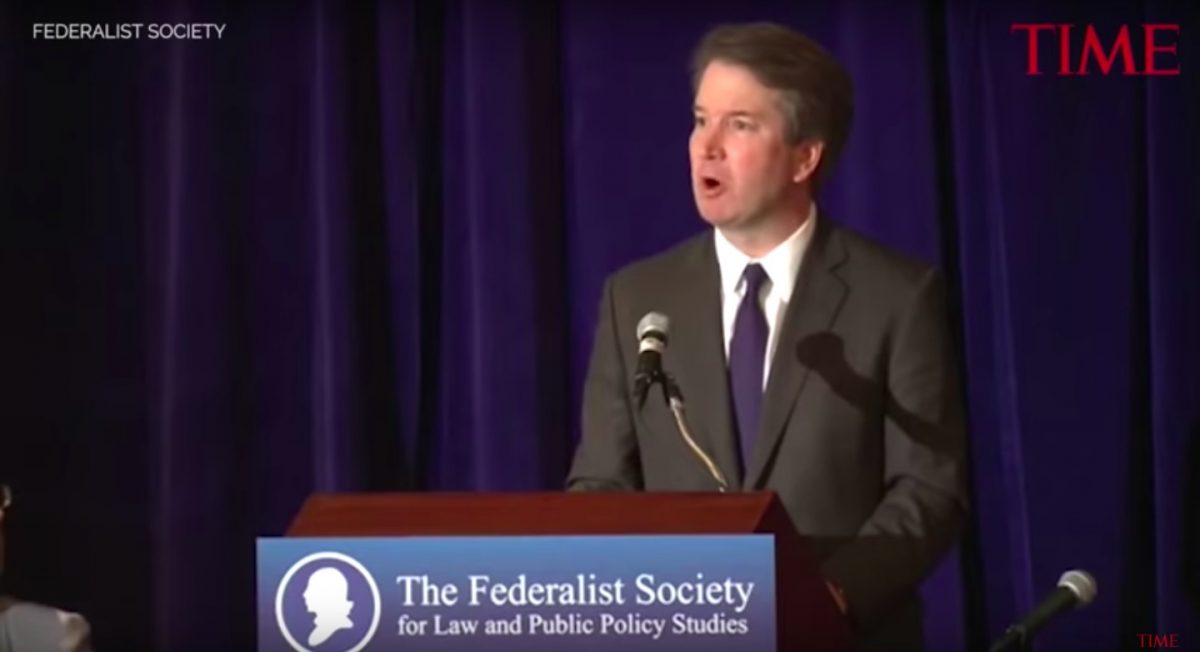 NBC Capitol Hill reporter Leigh Ann Caldwell tweeted — then deleted — a claim about Justice Anthony Kennedy and President Donald Trump that got her in some hot water with the right.
Caldwell reported on Twitter that Kennedy and Trump had "been in negotiations for months" for the former's replacement on the bench to be Brett Kavanaugh, and that once Kennedy had assurance that Kavanaugh was the pick, he felt he could retire.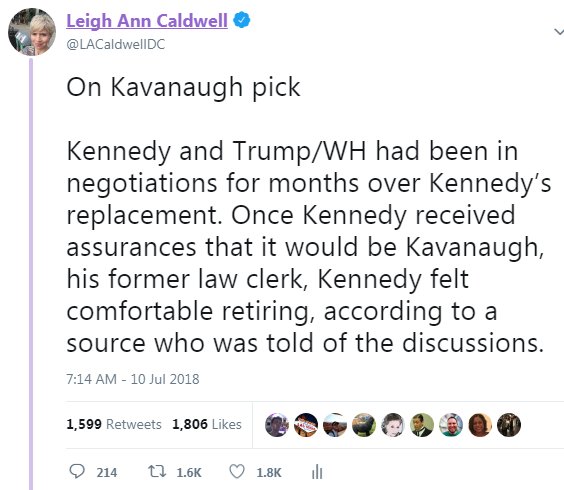 "In other words: the decision has been baked for a while," Caldwell tweeted.
That would be a massive story, as evidenced by the reaction on Twitter to Caldwell's tweets. This post from a fellow NBC Newser, echoing the idea, has racked up more than 10,000 retweets:
Source familiar tells NBC that Justice Kennedy had been in negotiations with the Trump team for months over Kennedy's replacement. Once Kennedy received assurances that it would be Kavanaugh (his former law clerk) Kennedy felt comfortable retiring – @LACaldwellDC & @frankthorp

— Geoff Bennett (@GeoffRBennett) July 10, 2018
The notion was so outrageous that commentators immediately began to question it:
This doesn't sound right to me at all. A Supreme Court justice essentially picking their successor may not be completely unprecedented (I just don't know) but I've certainly never heard of it. And any such 'deal' is unenforceable after the retirement announcement anyway. https://t.co/tnsjwOgK81

— Jeff B. (@EsotericCD) July 10, 2018
And then, about an hour later, Caldwell clarified that she didn't have much information to confirm her reporting, which was based on one source:
To be clear: This is from one source and dont have any info on whether potus talked to kennedy about a possible replacement.

— Leigh Ann Caldwell (@LACaldwellDC) July 10, 2018
To be fair, Politico has a report out that comes somewhat close to confirming Caldwell's tweet. The outlet reported that Trump decided to select Kavanaugh after Kennedy informed him he was retiring, inspired by the Supreme Court justice's "partiality" to the circuit court judge.
Politico's report does not, however, say that Kennedy negotiated Kavanaugh as his replacement, as a requirement for his retiring.
And voila, several hours later, after a taking much criticism you can see below, Caldwell deleted the tweet and issued a correction.
"I've deleted this tweet because it incorrectly implies a transactional nature in Kennedy's replacement," she wrote. "I am told by a source who was not directly part of the talks that Kennedy provided Pres. Trump/ WH a list of acceptable replacements."
Kavanaugh was the only one who was thought conservative enough to consider, I'm told. They added Kavanaugh – and 4 other names – to the public Federalist list that Trump would choose from in November. We are continuing to report this story. (2/2)

— Leigh Ann Caldwell (@LACaldwellDC) July 10, 2018
That is… quite different. Caldwell's reporting drew the ire of conservative Twitter for its journalistic sloppiness:
Ah well, probably best that you spread it around the Internet as fact just in case. https://t.co/E0P2Ih8RCS

— Charles C. W. Cooke (@charlescwcooke) July 10, 2018
How it's done these days:
– Present incendiary idea as fact.
– Present another incendiary idea as fact.
– Add a hard "in other words . . ." conclusion
[wait a bit]
– Look, it's one source and we have no information on whether this actually happened, but . . . pic.twitter.com/LvcDcFauzk

— Charles C. W. Cooke (@charlescwcooke) July 10, 2018
So this caveat is the third tweet in a thread that declares that Trump/WH and Kennedy have been in negotiations for months to decide his successor before Kennedy was willing to retire?

That seems irresponsible, no? This is thinly sourced at best, and the story is going to fly. https://t.co/mN072qPCfB

— Josh Jordan (@NumbersMuncher) July 10, 2018
Glad we all spread that fake news story about Kennedy making a deal months in advance and choosing his own replacement before the person reporting it revealed that it was 3rd-hand unconfirmed gossip from a single source. Excellent job, well done, social media.

— Jeff B. (@EsotericCD) July 10, 2018
So the story here is that a retiring Supreme Court Justice was asked which judges he thought would make good a Supreme Court Justice?

— Charles C. W. Cooke (@charlescwcooke) July 10, 2018
[image via screengrab]
Have a tip we should know? tips@mediaite.com