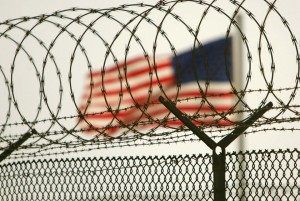 Though President Barack Obama has promised to close Guantanamo Bay's detention center, the issue has largely been overshadowed by other stories in the news lately. Today, Mother Jones' Nick Baumann writes that a group of news organizations may be close to suing the Obama administration over press restrictions surrounding Gitmo.
Baumann writes that the controversial banning of four reporters from the detention center caused a coalition of news outlets, including the New York Times and the Washington Post, to reach the end of their patience:
David Schulz, who represents the Miami Herald, the Associated Press, Dow Jones, the New York Times, Reuters, and the Washington Post, said he was "hopeful" that the media companies could work out their differences with the Defense Department in a meeting scheduled for next week. But, he said, "some press organizations are at the point where they've kind of reached the end of the line" in terms of patience with the restrictions imposed on reporting from the detention camp.
The media have faced these limitations, and complained about them, for years. But it is the Pentagon ban that may have been the last straw, because, despite being partially reversed, it crossed a line:
Statutory law and the Constitution are both fairly clear on press freedom at Guantanamo. The Military Commissions Act expressly says that the proceedings are supposed to be open to the public—and, of course, the press. More important, the Supreme Court has held that reporters have a first amendment constitutional right to legal proceedings and certain types of government documents.
The news organizations involved "are seeking several basic changes to the military's press procedures at Gitmo" — but most importantly, they want the Pentagon to scrap the limitations that got the reporters banned in the first place. They also want a "permanent exception allowing reporters to publish information that's already public" (…hence, public records, right?).
Baumann outlines a long list of the sometimes-"Kafkaesque" limitations reporters face at Gitmo, and it's worth a read. While the United States does allow more press freedom than many other countries, it's amazing to see how many restrictions do exist. In the story, Schulz notes that "after 9/11 the press was reluctant to challenge the military," and history shows that wars have shaped the way the media-military relationship has evolved. Free press and democracy go hand-in-hand, but leaders, regardless of party, will be prone to playing politics — so it's not surprising to see tension in the relationship now and then.
Have a tip we should know? tips@mediaite.com