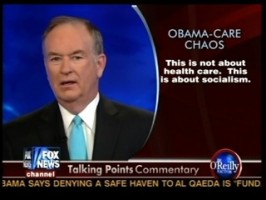 Sacred Heart University released the results of their third annual "Trust and Satisfaction with the National News Media" survey, and if you put your money on all the favorites in your office pools, you likely will be cashing in today.
Are you sitting down? Some people really trust Fox News. Other people, they don't trust Fox News at all.
Out of all the questions (about new media, the Fairness Doctrine and more), the one that seems to be getting the most attention is the "trust" question. Fox News can steal CNN's slogan as "the most trusted name in news," since they were the clear favorite in the SHU survey. Actually, there's probably some study somewhere that puts CNN at the top of the list. FNC came in with 30% of the vote, followed by CNN at 19.5%, NBC (7.5%) and ABC (7.5%).
And now for the organization people trusted least – another Fox News win. FNC had 26.2%, followed by NBC (9.9%), MSNBC (9.4%) and CNN (8.5%).
So what does this mean? Well first of all, more people picked FNC and CNN as most trustworthy than least trustworthy, which contrasts the response for NBC and MSNBC. But really, no one should be surprised by this. Fox News has their fans – a huge, ardent base – and they have their detractors – a smaller, but also ardent group. This is reflected very clearly in the results.
Another interesting stat comes when looking at most trusted anchor. Proving the continued power of evening newscasts, the top three were the anchors of each network's broadcast. The retiring Charlie Gibson finished 1st (19.8%), Brian Williams was 2nd (17.3%) and Katie Couric a distant 3rd (9.9%). Right behind Couric was the cable news entry in the top six – Bill O'Reilly of Fox News (no surprise here either).
—–
» Follow Steve Krakauer on Twitter
Have a tip we should know? tips@mediaite.com