Norquist: GOPers Won't Break Pledge Because 'Pink Unicorns Do Not Exist In The Real World'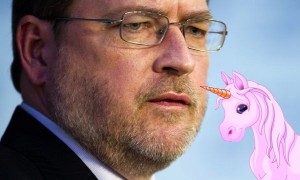 Grover Norquist has been all over the news defending the Taxpayer Protection Pledge created by his group Americans for Tax Reform in 1986 to get members of Congress to agree to never raise taxes. But despite a number of Republicans publicly jumping ship from the pledge, Norquist told NPR today he is unconcerned that any of them will actually agree to raise taxes because the likelihood of Republicans getting the kind of deal they want is on par with the existence of pink unicorns.
RELATED: Joe Scarborough: 'Grover [Norquist] Is Over When Americans Think They Aren't Taxed Enough'
Norquist's comments to NPR's Morning Edition were in response to Senator Lindsay Graham saying he would violate the pledge if he could get a deal that included putting entitlements on the table. Norquist said the chances of that happening are one in a million, so he's unconcerned with Graham jumping ship, presenting the "pink unicorn" hypothetical.
"If you had a pink unicorn, how many dollars in taxes would you raise to trade for the pink unicorn? Since pink unicorns do not exist in the real world, it's never occurred to me to worry about the senator from South Carolina. He's not going to vote for a deal because the kind of 10-1 ratio deal he's talking about with real, iron-clad spending cuts is never going to happen."
This is not the first time Norquist has used the unicorn metaphor, saying the same of a potential spending deal in June, only instead of "pink unicorns," then they were "silver-striped unicorns."
On Twitter yesterday, Norquist responded to Warren Buffett's New York Times op-ed calling for minimum tax rates on the rich, referring to Buffett as "both rich and silly."
—–
Follow Josh Feldman on Twitter: @feldmaniac
Have a tip we should know? tips@mediaite.com
Josh Feldman - Senior Editor