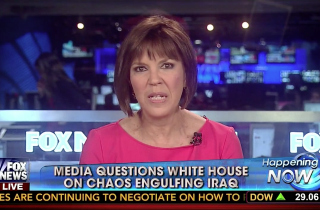 Last week, former New York Times reporter Judith Miller published an op-ed in the Wall Street Journal insisting that her reporting, which helped push America into a war with Iraq in 2003, was never influenced by scheming neoconservatives attempting to manipulate the public. It turns out that the column was printed in advance of her new memoir, The Story: A Reporter's Journey, and boy did the New York Times have nothing nice to say about it.
In their review, the Times, which took a hit to its reputation when Miller's reporting was discredited, could not believe her claims. "Ms. Miller's defense of her work then was straightforward: She reported what her sources told her," they wrote. "She has now written a book-length elaboration of that defense, [and] the defense is no better now than it was then."
The rest of the review touches upon Miller's entry into the Times ("a prized assignment, largely because the newspaper was facing a lawsuit accusing it of sex discrimination, she writes"), and her work in the Middle East, fostered by cultivating friendships with powerful people. It then leads into the timeliness of her coverage (jihad + WMDs) that suddenly made her prominent in the wake of 9/11. "Whatever her actual politics, though, the agenda that comes through most strongly here is a desire to land on the front page," the Times says, in response to claims that she was also driven by war agendas. "She rarely mentions an article she wrote without noting that it appeared on the front page or complaining that it did not."
More from the review:
Ms. Miller's main defense is that the experts she relied upon — intelligence officials, weapons experts, members of the Bush administration and others — were wrong about Mr. Hussein's weapons. She acknowledges being wrong but not making any mistakes. She quotes herself telling another reporter: "If your sources were wrong, you are wrong." This is where she gets stuck.

Journalists, especially those who have a talent for investigative work, are taught early to write big, to push the story as far as possible. Be careful; nail the facts; be fair, but push hard. Nobody pushed harder than Ms. Miller. In this case, she wound up implicitly pushing for war.
In the end, the Times dubbed the book, and Miller herself, "a bit lost", firmly stating: "This sad and flawed book won't help her be found."
[The New York Times]
[Image via screenshot/Fox]
—
>> Follow Tina Nguyen (@Tina_Nguyen) on Twitter
Have a tip we should know? tips@mediaite.com