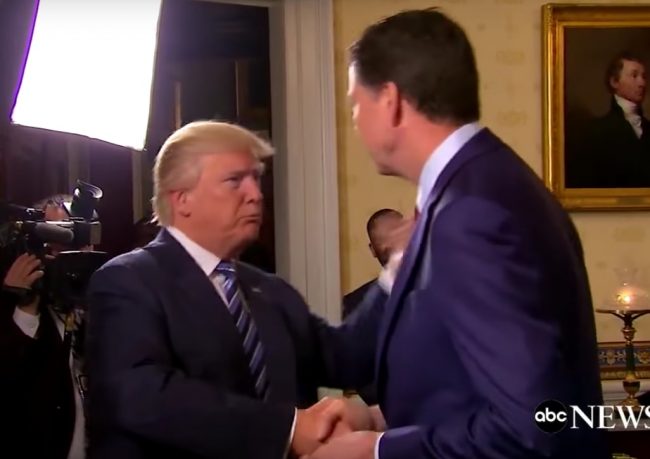 Less than two days ahead of the much-anticipated Congressional testimony of former FBI Director James Comey, the New York Times came out with another bombshell that will certainly play a part in the televised hearing.
Per current and former government officials, a day after Trump reportedly asked Comey to stop the investigation into ex-National Security Advisor Michael Flynn, the then-FBI chief confronted Attorney General Jeff Sessions and said that he didn't want to be left alone with the president ever again. At the same time, while he let Sessions know that he needed to provide cover for the FBI when it came to the White House, he didn't let the AG know why he was upset.
Mr. Comey believed Mr. Sessions should protect the F.B.I. from White House influence, the officials said, and pulled him aside after a meeting in February to tell him that private interactions between the F.B.I. director and the president were inappropriate. But Mr. Sessions could not guarantee that the president would not try to talk to Mr. Comey alone again, the officials said.

Mr. Comey did not reveal, however, what had so unnerved him about his Oval Office meeting with the president: Mr. Trump's request that the F.B.I. director end the investigation into the former national security adviser, Michael T. Flynn, who had just been fired. By the time Mr. Trump fired Mr. Comey last month, Mr. Comey had disclosed the meeting to a few of his closest advisers but nobody at the Justice Department, according to the officials, who did not want to be identified discussing Mr. Comey's interactions with Mr. Trump and Mr. Sessions.
This comes on the heels of other reports surrounding both what we should expect from Comey's testimony and the current relationship between Sessions and Trump. According to ABC News, Comey isn't expected to publicly state that Trump obstructed justice regarding the Flynn investigation but will dispute Trump's claim that he was told he personally wasn't under investigation.
Meanwhile, with it being reported that Trump has "grown sour" on Sessions, a story came out that Sessions had offered to resign amid the growing tension between the two men.
[image via screengrab]
—
Follow Justin Baragona on Twitter: @justinbaragona
Have a tip we should know? tips@mediaite.com