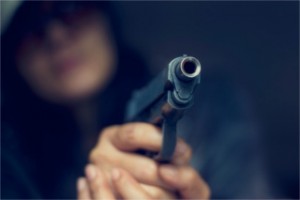 President Obama is moving forward with plans to develop technology and regulations for "smart guns," which are designed to prevent anyone other than the gun's owner from firing them.
In a Facebook post published Friday, the president said:
Today, many gun injuries and deaths are the result of legal guns that were stolen, misused, or discharged accidentally. As long as we've got the technology to prevent a criminal from stealing and using your smartphone, then we should be able to prevent the wrong person from pulling a trigger on a gun.

So, my Administration released a plan today to expedite the development of smart gun technology, including by identifying the requirements that smart guns would have to meet in order for law enforcement to purchase and use them effectively – and keep themselves and the public safer in the process.
The NRA Twitter account seemed leery of the notion:
#ICYMI: @POTUS is ramping up push for so-called "smart guns" https://t.co/8mXrksdIgu #2A

— NRA (@NRA) April 29, 2016
Re: @POTUS' new push for so-called "smart guns" #2A #defendthesecond #notsosmart pic.twitter.com/xViQDSTmXb

— NRA (@NRA) April 29, 2016
In a statement, the NRA said Friday that it "doesn't oppose the development of 'smart' guns, nor the ability of Americans to voluntarily acquire them. However, NRA opposes any law prohibiting Americans from acquiring or possessing firearms that don't possess 'smart' gun technology." Their statement also suggested that the technology would "presumably" include a device "that would allow guns to be disabled remotely."
"President Obama's obsession with gun control knows no boundaries," said Jennifer Baker, director of NRA-ILA Public Affairs. "At a time when we are actively fighting terrorists at home and abroad, this administration would rather focus the military's efforts on the president's gun control agenda."
The organization has suggested in the past that smart gun regulations could easily expand into more extensive government mandates on guns.
In a Nov. 2013 statement, the NRA said:
NRA does not oppose new technological developments in firearms; however, we are opposed to government mandates that require the use of expensive, unreliable features, such as grips that would read your fingerprints before the gun will fire.  And NRA recognizes that the "smart guns" issue clearly has the potential to mesh with the anti-gunner's agenda, opening the door to a ban on all guns that do not possess the government-required technology.
The move forward on smart guns is part of a host of initiatives to take action on gun violence outlined by the president in January. Other actions include expanding background checks and giving authorities more training and manpower to enforce existing gun laws.
[image via shutterstock]
This post has been updated with statements from the NRA.
Have a tip we should know? tips@mediaite.com