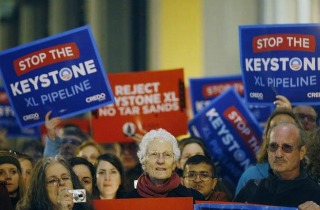 The federal review process in which a variety of federal agencies scrutinize the impact of the proposed the Keystone XL Pipeline, applications for which were originally submitted to the State Department in 2008, has been extended yet again. This time, the deadline may extend to well past the 2014 midterm elections.
President Barack Obama's White House was expected to weigh in with their final decision at the end of May, but the process of "review" may even outlive the Obama presidency.
CNN's Lisa Desjardins reported on Friday afternoon that the process of examination is being extended "indefinitely."
CONFIRMED: Obama admin is pushing back Keystone decision, extending comment period indefinitely, Rep. Lee Terry's office tells us.

— Lisa Desjardins (@LisaDCNN) April 18, 2014
Keytone opponents say the pipeline, which would link Canadian tar sands fields to refiners on the Gulf Coast, could result in damaging spills in the sensitive areas over which the pipeline is built, may damage the climate as the heavy crude contains more carbon than other forms of fossil fuel, is expensive to construct, and will only spur more oil exploration and production.
But that scattershot list of excuses for not building the pipeline has not made it any less popular. A Reason-Rupe poll released on Friday shows that the pipeline is opposed by only 32 percent of Americans (and 100 percent of MSNBC hosts, following former proponent Ed Schultz's recent change of heart). A full 61 percent of Americans support the construction of the 1,200 mile pipeline.
Furthermore, majorities of every political stripe support the building the pipeline. 82 percent of Republicans, 57 percent of independents, and 50 percent of Democrats back the pipeline. Only 42 percent of the Democrats and 35 percent of the independents surveyed disapprove of Keystone.
However, the president's decision to put off deciding pipeline's construction until after the midterms becomes clearer when one considers that 57 percent of self-identified liberals oppose the construction of the pipeline. And while one-third of Republican respondents say the decision to build the pipeline would improve their view of Obama, 17 percent of Democrats would view Obama less favorably if the pipeline was approved.
Heading into a midterm election in which 8 in 10 Republicans say they are enthusiastic to vote, and Democrats confess they are much less enthusiastic about voting in November, Obama cannot afford to give his base any more reasons to stay home.
Borrowing some of the rhetorical flourishes Democrats popularized during the 2013 government shutdown, Keystone has become a hostage to the Democratic Party's political base.
[photo via Stephen Lam / Reuters]
 — — 
>> Follow Noah Rothman (@NoahCRothman) on Twitter
Have a tip we should know? tips@mediaite.com