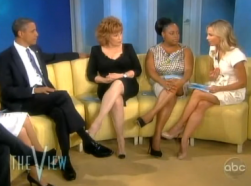 President Obama made his much-anticipated appearance on The View today. Actually, I'm not really sure how anticipated it was, per se — my Twitter feed was pretty dead through the hour. But it was definitely discussed! People were worried that an appearance on The View was beneath President Obama, who to the best of my knowledge has appeared on everything but a daytime talk show, a fact which may account for the light Twittering.
That said, it was a tad disconcerting to watch the President tread the path to the hot topics couch, but once ensconced I think both he and the ladies acquitted themselves well. Better, in fact, than a number of "serious" interviews I've seen the last few months. Turns out it's harder to wiggle your way out of a direct answer when you are face to face with five inquiring women and a live audience. To be sure, the questions were not terribly in depth, but they were reasonably substantive, and commensurate with with the sort of questions one imagines The View's audience would be interested in answers to. Namely, the economy, his children, the economy, Shirley Sherrod, cable news (no mention of Fox by name), Afghanistan, health care, Lindsay Lohan, Sn00ki, and Chelsea Clinton. Mostly in that order.
Two exchanges in particular that caught my attention: The discussion about Shirley Sherrod. And Elisabeth Hasselbeck. Televised discussions about race in this country tend to be painted in fairly broad strokes, and I thought that between Barbara asking the president why he didn't call himself a biracial president, to Whoopi asking him how black people should think of themselves in America, the discussion went a bit deeper than it might otherwise have in a different setting. For the record, Obama conceded ""people in [his] administration" overreacted in the case of Sherrod.
Obama also noted that the things the media may focus on are not necessarily the things he is focused on, and that signing letters to family members of men and women killed in Afghanistan tends to put things in a different perspective. What is frustrating, he conceded, was the sense that he was always on on the campaign trail: "we shouldn't be campaigning all the time…there's a time to govern." Moreover, Michelle doesn't think any of the [cable news] criticism is fair. (Neither does Joy.)
Enter Elisabeth Hasselbeck, whom I happen to think was rather impressive. Hasselbeck is well-known to viewers of the View for her conservative politics and is never shy about voicing her criticism of the president. What I found impressive was that she managed to respectfully articulate her economic concerns to the president, instead of shying away from the discussion when the spotlight was on. Anyone who has watched Jon Stewart go soft while attempting to interview face-to-face one of the subjects of his sharp criticism knows it is not easy to be critical to someone's face, let alone the President of the United States. It actually left me wondering whether she has political aspirations. (Palin-Hasselbeck 2016 anyone?)
Now for the celebrity portion: Obama knows Lindsay Lohan is in jail, doesn't know who Sn00ki is, and hasn't watched a Mel Gibson movie in years. Bases covered! Watch clips from the hour below.
Have a tip we should know? tips@mediaite.com