Oppo Tracking Video Shows Just How Epic Jon Huntsman's Climate Change Flip Is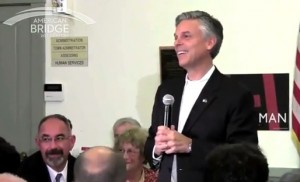 Republican bubble candidate Jon Huntsman nullified two of the things that set him apart from frontrunners Newt Gingrich and Mitt Romney yesterday when he told a group at the Heritage Foundation that "the scientific community owes us more" on climate change, and that "there's not enough information right now to be able to formulate policies."
He staked out the "sane candidate" territory in August, and as a tracking video shot by American Bridge PAC in late October shows, Huntsman has no wiggle room on this flip.
RELATED: Jon Huntsman Warns The GOP: 'You Cannot Run Away From Mainstream Science'
Until now, former Utah Gov. Jon Huntsman has stood out from the Republican pack in a number of ways, most notably in his willingness to buck his party's creeping disdain for science, particularly climate change science. By flipping on this issue, he not only gives up a key advantage over frontrunner Newt Gingrich, whom he's set to debate one-on-one next week, but he also joins Gingrich and Mitt Romney as the Three Horsemen of the Flipocalypse.
How bad is Huntsman's flip, though? He's not outright denying the science. In fact, he told the Heritage Foundation that he "defers to the science." Here's what he said:
I'm not a scientist, nor am I a physicist, but I would defer to science and say the scientific community owes us more in terms of a better description or explanation about what might lie beneath all of this. But there's not enough information right now to be able to formulate policies.
It's a little on the weaselly side, but you could argue that Huntsman's statements Tuesday are still consistent with what he said in August. He believes the science, he just needs more of it to convince him to do anything about climate change.
RELATED: Jon Huntsman Campaign Scores Lincoln-Douglas Style Debate With Newt Gingrich
That stance, however, is a 180° flip from what he told a town hall meeting in Hopkinton, NH on October 18. There, he drew huge applause for deriding his rivals' denial of science, and made a clear case that the science, as far as he's concerned, is settled. "I think back on a cancer institute that I was involved in building, and was president of for awhile," Huntsman said, "if you had 98 of a hundred oncologists who came to you and said 'We've got an approach on prostate, colon, or breast cancer that we think is most efficacious,' we'd say 'Hallelujah!' That's science speaking."
RELATED: Jon Huntsman Won't Kiss Donald Trump's Ring, Or 'Any Other Part Of His Anatomy'
This is a real shame for Huntsman, because even though he's an extreme longshot to win New Hampshire, his organization in that state, plus his upcoming one-on-one debate with Newt Gingrich, left him in a decent position to capitalize on any slip-ups by the frontrunners. He also scored major points by being one of the first, and most aggressive, candidates to skip out on the Donald Trump debate.
It's a shame he so quickly gave up on the things that set him apart. Some Republicans may not have liked Huntsman's pro-science ways, but I doubt any of them will cotton to such a glaring flip on such a signature issue.
Here are Huntsman's remarks from Tuesday, followed by American Bridge's video from that Oct. 18 town hall:
Have a tip we should know? [email protected]