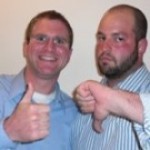 Who: Malcolm Gladwell and Adam Gopnik
What: "Adam Gopnik and Malcolm Gladwell: 'Surveying Mankind from China to Peru'"
Where: 92nd St. Y
When: February 16, 2010
Thumbs: Up
Leave it to Malcolm Gladwell to come up with a reason why journalism – particularly magazine writing – will survive. Gladwell believes that even if a tiny percentage of people in the world value and subscribe to publications like the New Yorker then that actually translates into a large enough number to sustain the industry. But Gladwell also warned in his chat with his friend, colleague, and debating partner Adam Gopnik that it's not often that his theories get substantiated by subsequent events.
The truth behind that reality may not lie in the fact that Gladwell's frequently wrong but in the fact that his opinions often change. For instance, when the two sat down a decade ago for their first of these series of public conversations, Gladwell took a libertarian approach to handling American health care. Over time, however, he's warmed up to a more nationalist view, thanks in part to Gopnik's convincing. It also doesn't hurt that the pair both hail from Canada.
In fact, Canada took on a central role to the debate as the two reminisced about Prime Minister Pierre Trudeau and outlined reasons why Canadian culture excels above its American counterpart. President Obama, they said, could learn a thing or two from Trudeau about how to curry favor from his people by expressing contempt for political office. Gladwell also noted that if Americans don't want Obama, Canada would be happy to take him.
Gopnik led the discussion brilliantly, tying together disparate subjects under larger rubrics like "autonomy." He connected their conversations about health care and the NFL in Gladwellian ways. But it was Gopnik's comments on the iPad that were particularly noteworthy. The telegraph should have logically been followed by something like the iPad. Technological innovation, Gopnik said, tends to make handheld versions of existing devices before moving on to new products. So the iPad should have been invented before the telephone.
They asked the audience to imagine how revolutionary the phone would have seemed had it been announced last month instead of the iPad. These types of thought exercises govern how Gladwell views the world.
What They Said
"Our shared motto's 'Have check, will argue.'"
– Adam Gopnik says he's willing to sit down with Malcolm Gladwell any time, any place.
"Maybe what America is is just the idealized male world and the rest of the world if the idealized female world."
– Malcolm Gladwell explains health care – and why we screw some other areas of the world

"He has the courage to stand up to those who say 'No way' and to say 'Way.'"
– Malcolm Gladwell describes what he wants his tombstone to say, and he wants it written by "Wayne's World"

"It's a writing culture and a quick-take culture, but not a reading culture."
– Adam Gopnik wonders if his teenage son can appreciate the longform magazine reading that his father does for a living
What We Thought
Despite leaving Canada, both Gopnik and Gladwell hold their home country in high regard. Gladwell says that part of evaluating a nation's worth is recognizing who has also left the country. We liked this thinking, though we do question why someone would leave if it's such a great place to live.
We were fascinated by the pair's views on New York as a city that succeeds thanks to its hospitality to outsiders. If people worldwide were more accepting, New York wouldn't welcome as many immigrants. The spread of global democracy, they say, will take its toll on New York. We wonder if New York is the model for what is possible or if it's just a form of an orphanage.
PANEL RULES!
Some audience behavior seems to repeat itself panel after panel. We'll be updating a running list of "PANEL RULES!" that will help ensure that you are not the dweeb of the Panel Nerds.
Panel Nerds don't like…Generalizers
Most of the questions, as you would imagine, were directed at Gladwell and his take on things. Some of the questions dealt directly with topics he's discussed in his works, while others addressed new ideas. But one stood out as particularly outlandish. Someone asked Gladwell how he felt about values and "what can be done." What values? Whose values? What circumstances involved? It wasn't clear. Gladwell and Gopnik laughed off the question, saying they are in favor of values. Then they moved onto the next question. If you're going to go broad with a question, you must eventually come in closer. Staying at a far distance won't bring you the answers you seek.
Have a tip we should know? tips@mediaite.com