Pelosi Slams Contempt Hearings: 'I Could Have Arrested Karl Rove On Any Given Day'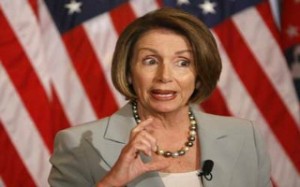 On Wednesday, House Minority Leader Rep. Nancy Pelosi (D-CA) slammed the House Oversight committee's hearings relating to the Fast and Furious gun walking scandal and the imminent committee vote to hold Attorney General Eric Holder in contempt. "I could have arrested Karl Rove on any given day," said Pelosi.

RELATED: Judge Napolitano: Invoking Executive Privilege Opens Holder Up To Charges Of 'Misleading The Congress'
Reporters laughed when Pelosi said she could have had Rove arrested whenever she liked . "I'm not kidding. There's a prison here in the Capitol … If we had spotted him in the Capitol, we could have arrested him."
"Oh, any number. But there were some specific ones for his being in contempt of Congress. But we didn't," Pelosi continued.
Rove served as political advisor and deputy White House chief of staff to President George W. Bush. The Congress investigated Rove numerous times, particularly surrounding the scandal that forced Bush to invoke executive privilege to withhold documents relating to the White House's decision to remove several federal judges from the bench in 2007.
When Pelosi was asked for her opinion in the nature of the charged levied against Holder, she replied that she felt the hearings and the impending committee vote were "strictly political."
"It's just the irresponsibility of the Republicans. We want jobs," Pelosi said. "Why are they spending this time doing this?"
She went on to take on House Oversight Committee Chairman and fellow member of the California Congressional delegation, Rep. Darryl Issa (R-CA), who has led the charge against Holder.
"'Loose cannon' would sort of be like such a compliment to Darrell Issa. 'Loose cannon' would be a moderate phrase. This is an explosive device," Pelosi said. "It doesn't serve our country, and it undermines the true purpose of contempt of Congress. That's why I didn't arrest Karl Rove when I had the chance."
> >Follow Noah Rothman (@Noah_C_Rothman) on Twitter
Have a tip we should know? tips@mediaite.com