'People Should Not Have Handguns': Records Show Nixon Wanted Gun Ban, Considered Taking On Gun Lobby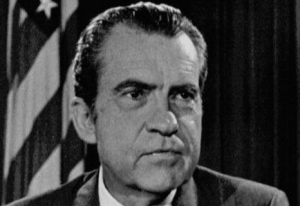 Why "can't we go after handguns, period?" President Richard Nixon asked, according to previously unreported recordings and memos. At times, Nixon considered taking on the gun lobby and wished for a handgun ban, the Associated Press reported.
While his aides were concerned about political fallout, the Republican president "appeared willing to take on the National Rifle Association, a powerful gun lobby then as now" — though he did not publicly voice wanting a ban.
A glimpse of that sentiment came via taped recordings with aides, obtained from the National Archives and the University of Virginia's Miller Center:
"I don't know why any individual should have a right to have a revolver in his house," Nixon said in a taped conversation with aides. "The kids usually kill themselves with it and so forth." He asked why "can't we go after handguns, period?"

Nixon went on: "I know the rifle association will be against it, the gun makers will be against it." But "people should not have handguns." He laced his comments with obscenities, as was typical.

Nixon made his remarks in the Oval Office on May 16, 1972, the day after a would-be assassin shot and paralyzed segregationist presidential candidate George Wallace.
Urging Congress to pass legislation banning "cheaply made, easily concealed" Saturday night specials, Nixon said he would sign the bill if it came to his desk. But it never did, "in a sign of how potent the NRA was even 40 years ago" — and "there is no sign that he ever sent a draft bill to Capitol Hill."
The report does note that not all of Nixon's private remarks supported gun control. Days after asserting people shouldn't have handguns, he reportedly asked, "What do they want to do, just disarm the populace? Disarm the good folks and leave the arms in the hands of criminals?"
Most of the remarks in the recordings, however, are in favor of stronger gun control, the AP said.
Not long after, Nixon found himself focusing on a different issue…
In June 1972, a little over a month after his chat about banning handguns, Nixon had a recorded conversation that showed him trying to get the FBI to stop investigating the break-in at Democratic offices at the Watergate office building by burglars tied to his re-election committee.
The rest, as they say, is history.
Read the full report here.
Have a tip we should know? tips@mediaite.com