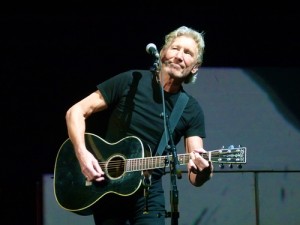 Pink Floyd co-founder Roger Waters worries that Democratic front-runner Hillary Clinton may use the nuclear option against someone if she becomes the first female president of the United States.
In an interview with Rolling Stone, Waters said that the former Secretary of State worries him, despite her being "far better alternative than any of the Republican candidates by a long, long way." He vaguely alludes to Clinton's ongoing Benghazi scandal, suggesting she has "that politician look" that suggests voters "are never going to get a word of truth out of" her.
But what really freaks him out is her having access to nuclear weapons:
"I have an awful worry that she might become the first woman president to drop a fucking nuclear bomb on somebody. There is something scarily hawkish about her."
("Hawkish," used as an adjective, describes one as advocating for war.)
Waters doesn't explain his concerns in any more detail, though it isn't difficult to notice his emphasis on Clinton's being the "first woman president" to possess the nuclear option.
So who does the British citizen, who cannot vote in the 2016 election anyways, advocate for? You guessed it — Bernie Sanders:
"He's the only person in the race that I see with any credibility," says Waters. "He seems to speak the truth, far as one can tell at this point. He seems prepared to stand up against big money and the banks and stand up for the predicaments of minorities, the middle class and the working class in this country."
Maybe advocating for and against candidates in another country's elections worked for Last Week Tonight host John Oliver, but it falls flat for Waters.
[h/t Uproxx]
[Image via Shutterstock.com]
— —
>> Follow Andrew Husband (@AndrewHusband) on Twitter
Have a tip we should know? tips@mediaite.com