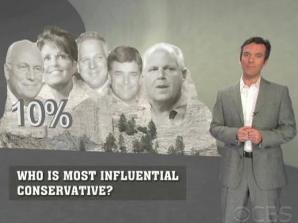 The results from the December 60 Minutes/Vanity Fair poll is in, and Rush Limbaugh wins again.
The talk radio host was the top pick, by far, by respondents when asked who was the most influential conservative in America. Here's more on the results of that question, and others.
Limbaugh was the top choice, with 26% picking him over a list of media and political personalities. Coming in second was the 'no thanks' answer – 15% responded "none of them." Maybe that says something about the state of the GOP, or it could just mean the choices didn't excite anyone. The #2 answer was Glenn Beck, with 11%, followed by two politicians not currently holding office, Sarah Palin and Dick Cheney with 10%. For what it's worth, Beck has passed Limbaugh on our Power Grid.
It's not exactly surprising to see Limbaugh take the win from this field, but what does it really mean? For one thing, it feeds the ego of the radio host, who may weigh in today on the "honor." Does it make him the 'de factor head of the GOP' again? Probably not.
Another question – who should get his head added to Mount Rushmore? Here's how Vanity Fair described the responses:
John F. Kennedy is the president 29 percent of Americans would most like to see added to Mount Rushmore. Forty percent of Democrats voted for Kennedy, while Ronald Reagan drew 52 percent of Republicans. The appeal of L.B.J.—who gave us Medicare and the Voting Rights Act but has yet to shake Vietnam—was equal across the board: 0 percent.
Also, Pres. Barack Obama got 16% of the responses, so…
Speaking of Barack Obama, Republicans, Democrats and Independents appear to be in agreement on one aspect of the public option. As VF puts it, "Most of us couldn't even begin to explain what the 'public option' means."
There's also some strange questions: What exactly is "How often do you use the U.S. POSTAL SERVICE?" or "Which one of these LOST ARTIFACTS would you like to be the first one to find?" supposed to tell us about the state of the country right now?
Of course, these polls should generally be taken fairly lightly. This December offering from 60 Minutes/Vanity Fair amounts to just 855 respondents nationwide, phone polled during three days in early November.
Here's a look at a video for CBSNews.com about the results:

Watch CBS News Videos Online

—–
» Follow Steve Krakauer on Twitter
Have a tip we should know? tips@mediaite.com