Poll Shows Only 16% of Americans Have Large Amount of Confidence in National News Media
During the presidential campaign and since winning the election, Donald Trump has continuously hammered away at the press. Whether it was targeting outlets on Twitter for ridicule over unfair coverage, or directing his crowds at his rallies to boo reporters confined in press pens, Trump made much of his campaign about sowing distrust in the mainstream media.
Well, it appears all of that hard work has come up with results. According to a new poll by NBC News and the Wall Street Journal, only 16% of Americans have either a "great deal" or "quite a bit" of confidence in the national news media. 28% express they have "some" confidence while a combined 55% say they have "very little" or "none at all."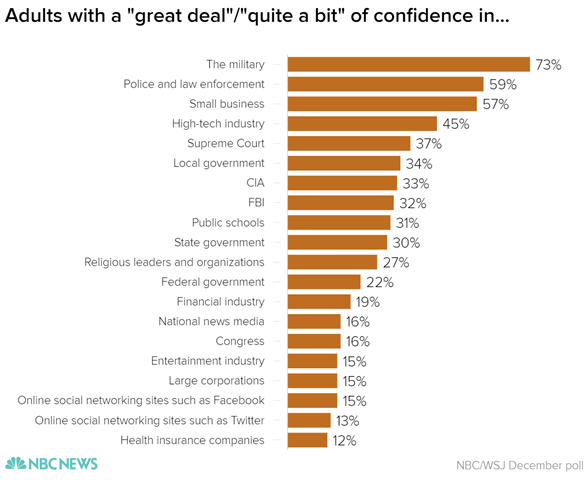 Now, it isn't like mainstream media was overly popular beforehand. However, we are seeing an erosion from before Trump entered the national political arena. When the same questions was asked in April 2014, 19% had a large amount of confidence in the institution, compared with 48% that held little or none.
Meanwhile, other institutions that have been widely derided have actually seen increases in how the public views them. 19% now have a "great deal" or "quite a bit" of confidence in the financial industry, compared to 13% in 2014. The federal government's seen a six point increase in that same time period, going from 16% to 22% over the same metrics.
As it stands now, only the entertainment industry, large corporations, Facebook, Twitter and health insurance companies rank below the media in terms of public confidence.
It should be noted, though, that in another poll conducted by Morning Consult, when asked about individual media outlets, many like ABC, CBS, NBC, the Wall Street Journal and New York Times were all seen as largely credible by the public.
Everybody hates "the media" (even me) but specific mainstream outlets are widely trusted. pic.twitter.com/9wOFl1JpyA

— Matthew Yglesias (@mattyglesias) December 21, 2016
[image via NBC News]
–
Follow Justin Baragona on Twitter: @justinbaragona
Have a tip we should know? tips@mediaite.com