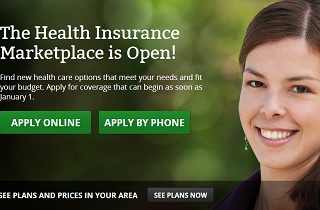 The second part of the Washington Post/ABC News poll that we reported earlier illustrates just how high the stakes are for the Obama administration when it comes to fixing the Healthcare.gov website. Contrary to the mainstream media drumbeat that the Affordable Care Act is "unpopular," the poll shows that a full 66% of Americans want Obamacare to be implemented, without any parts of it being repealed. As in every other poll, a large majority (56%) either supports the law, or wants it to go further than it does.
It's not all great news for Obamacare in this poll, but given the significant, high-profile difficulties the rollout has encountered, it could be worse. Forty-one percent of Americans approve of President Obama's implementation of the law, versus 53% who disapprove, and 40% think the website snafu is an isolated incident, versus 56% who think it's a sign of broader problems.
Even given the three weeks of problems, 46% of Americans support the law, while 49% oppose it, but of those who say they oppose the law, an additional 20% said they prefer to let the health care law go ahead, versus 33% who want it repealed entirely, and 0% who want parts of the law repealed. While 46% say they support the law, an additional 10% say they oppose it because it doesn't go far enough.
The problems with the website, though, were somewhat lost in the news of the government shutdown, and have dominated political news this week. This poll demonstrates that there is a reservoir of goodwill toward Obamacare, one which could likely withstand a few bad news cycles if they get things ironed out quickly. That's a big if, but the glare of the spotlight this week is an opportunity for the Obama administration to demonstrate competence in a context of lowered expectations.
Aside from the implications to the policy itself, which are difficult to measure, this snafu comes just as Republicans are experiencing historic unpopularity due to the government shutdown, and talk of a Democratic sweep in 2014 is in the air. Despite their disastrous poll numbers, Republicans are dug in like ticks with tapeworms, thanks to gerrymandering and low midterm turnout, so if Democrats really want to have a shot at a sweep, they can't just rely on people to stay mad at Republicans for a year.
Democrats need an issue to run on, and if it is as successful as it should be, Obamacare could be that issue. If it's not, or if Democrats are once again too afraid to run on it, Obamacare could provide a mainstream media-assisted boost to Republicans. Re-taking the House is the key, not just to enacting anything resembling progressive policies, but to enacting anything at all.
That's why liberals ought to think closely about the intramural conflict between Salon's Joan Walsh and The Washington Post's Ezra Klein. Klein disingenuously responded to Walsh's criticism by asserting that she didn't want him to report on the website's problems "accurately," but her central points were that reporting on the hold music seemed more like Obama Derangement Pettiness than anything else (the hold music worked fine for me), and that there's no reason Klein shouldn't also be reporting on the tremendous good that the law does at the same time.
I agree, because such reporting should increase the pressure on President Obama to fix this, not ease it. Every one of the stories he told at Monday's press conference, about people getting insurance for the first time in years, all of the people who most need this law to work, are depending on this problem to be solved. The coverage should be fair in this regard, but also tough.
Chuck Todd asked the right question Monday, because it is becoming obvious that someone, somewhere, has been bullshitting the President, and it is whoever told him to give out the Obamacare phone number yesterday. As I said before, the hold music worked just fine for me, and my call was answered in seconds, but 58 minutes later, the rep I was on the phone with still could not give me any of the information I was asking for. Throughout the course of that call, I gleaned that the call center's internal systems were locked up due to heavy call volume (at one point, she accidentally took me off hold, and I heard her explaining to someone that she was putting me off as best she could, but the systems were frozen).
The Obama administration is taking encouraging steps, and while the media and conservatives take the lack of specifics and deadlines as a bad sign, it's just as likely that this is an effort to capitalize on lowered expectations. If November 1 rolls around and they can announce a whole mess of signups, that'll be much better than a daily countdown to some deadline that starts out as a failure. But liberal journalists should, without question, do everything they can to wake this administration up to the stakes of this failure, and the true depth of it. As this poll shows, most people are angry about this because they want Obamacare to work, and not because they want to destroy it.
Have a tip we should know? tips@mediaite.com