President Finally Gets It by Foregoing Fundraiser, Campaign Events for Ebola Meetings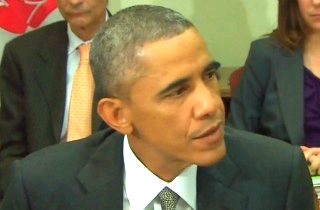 On-the-job training isn't exactly how one would ever like to describe a position when talking about the most powerful office on Earth. But if today's decision by President Obama to cancel a fundraising and campaign trip in New Jersey and Connecticut is any indication, it appears he's finally–after almost six years–understanding the importance of symbolism and optics.
With ISIS spreading instead of being degraded and destroyed abroad and Ebola concern climbing to higher levels (two-thirds of Americans now fear a possible epidemic, according to a Washington Post-ABC poll just released), Mr. Obama appears to realize what it would look like to leave the White House to attend another fundraiser (now well over 400 during his presidency) with these events very much at the forefront of Americans' attention… particularly Ebola.
The news comes after a second healthcare worker in Texas tested positive for Ebola after treating Thomas Eric Duncan. The president's itinerary was to include a trip to Union, New Jersey to raise funds for Senate Democrats, who face losing the Senate in less than three weeks. Stats guru Nate Silver (of fivethirtyeight.com) has GOP chances of taking control at 58.6 percent; the New York Times has increased its probability to 74 percent; The Washington Post sits at a number at an eye-popping 94 percent. Later this evening, Mr. Obama was to travel to Connecticut for a rare campaigning event in the form of a rally for vulnerable Governor Dan Malloy.
But the president sees the writing on the wall instead and will stay at 1600 Pennsylvania Avenue to meet with cabinet members to discuss strategy on government response to Ebola. He got rightly slammed from the left (Dana Milbank of the Washington Post and Maureen Dowd of the New York Times, for example) and right for hitting the links 15 minutes following a statement on the beheading of American journalist James Foley. All the criticism around the timing of the record-setting-pace-for-a-president fundraising trips–again, from both sides of the aisle–seems to be resonating with Mr. Obama as well. Again, golf all you want; fundraise during an election year to help your party… all presidents have done it. But learn to pick and choose your spots… and perhaps the president is doing that today.
Good for him. Optics and symbolism are important on days like this.
And if a better approach of monitoring Ebola healthcare workers more closely is enacted as a result of today's meetings, all the better.
>>Follow Joe Concha on Twitter @JoeConchaTV
Have a tip we should know? tips@mediaite.com