Pro-NSA GOP'ers, Like Chris Christie, Make A Terrible Case For The Post-9/11 Surveillance Programs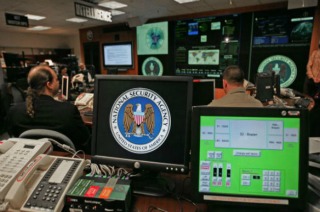 You don't need a weatherman. The libertarian wing of the Republican Party is clearly ascendant within the party, and has all but completely displaced Bush-era neoconservatives that once dominated the political media. The intraparty feud to determine which wing will control the party's political destiny has already begun.
Deft theatrics by libertarian-leaning Republican politicians like Sen. Rand Paul (R-KY) and Rep. Justin Amash (R-MI), in concert with the increasingly apparent obsolescence of the party's neoconservative wing, have contributed to this condition. There are many positive attributes to this internal recalibration for the GOP: a message of personal liberty, directly contrasting with the last decade's brand of Republicanism which was typified by an embrace of expansionist government and social engineering so long as it was directed at accomplishing conservative policy objectives, resonates with elements of the American electorate that had grown unwilling to listen to the GOP's messaging.
But the potential pitfalls associated with the libertarian ascendency are real and they are foreboding. The Republican Party's traditional dominance of issues relating to the preservation of national security – defending the public from threats both foreign and domestic, by state and non-state actors – is threatened by this transition. But Republicans concerned with what they see as a level of disregard for real national security threats from the party's libertarians have thus far made a series of spectacularly bad arguments in support of their convictions. If they do not adapt soon and make a more compelling case for the post-9/11 security state, they may lose the argument entirely.
Central to the present debate between libertarian-leaning and security-focused Republicans centers on the appropriateness of the National Security Agency's recently revealed intelligence gathering and warehousing practices – specifically, those that target the "metadata" of American citizens. This is not a partisan (e.g. Democrat vs. Republican) issue. President Barack Obama supports this practice, and he has the backing of a majority of Congressional Republicans.
On Wednesday, House Speaker John Boehner (R-OH) put to a vote an amendment sponsored by Rep. Amash that would have revoked the NSA's authority under the Patriot Act to collect American communications records. That amendment failed by the narrowest of majorities – 205 voting for and 217 against. 94 Republicans and 111 Democrats voted for the amendment to limit the scope of the NSA's intelligence gathering practices. 134 GOP representatives and 83 Democrats voted against the measure. Those voting "nay" included both Speaker Boehner and Minority Leader Rep. Nancy Pelosi (D-CA).
A fascinating bit of reporting by POLITICO's Jake Sherman reveals how this amendment, opposed by the House GOP leadership, even got a vote. "Amash was out there acting like he was fighting against the leadership trying to shut us down," one unnamed Republican involved in the process told Sherman. "The reality is [leadership was] twisting ourselves in knots for a week trying to craft language that was germane and got at the issue."
"In the end, leadership didn't even whip against it," Sherman writes.
[I]nstead, they relied on committee leaders, like Mike Rogers (R-Mich.) of the Intelligence Committee, Buck McKeon (R-Calif.) of the Armed Services Committee and Bob Goodlatte (R-Va.) of the Judiciary Committee, to explain that it would harm national security. For instance, top members of Congress were told that the program stopped 54 terrorist attacks, according to lawmakers briefed on the activities. Committee leaders made phone calls all Wednesday.
Certainly, some of the specifics relating to how effective the NSA programs have been at thwarting terror attacks are too sensitive for public consumption — though the House GOP and intelligence community have provided the public with more information relating to those programs than they are probably comfortable with. The House GOP, and the President of the United States for that matter, could still do much more to convince the public of the necessity of the NSA's domestic intelligence gathering programs.
Those who are trying to make this case are doing a rather poor job of it. "This strain of libertarianism that's going through parties right now and making big headlines I think is a very dangerous thought," said New Jersey Gov. Chris Christie of the GOP's prominent libertarians with an uncharacteristic level of artlessness. "I want them to come to New Jersey and sit across from the widows and the orphans and have that conversation. And they won't, because that's a much tougher conversation to have."
This appeal to emotionalism is not compelling. It reeks of contempt for his opponents. His reaction contains a note of petulance as well, resentful of even having to make the pro-NSA argument. Christie and his concerned colleagues have an important case to make, but he did not make it in his speech to a group of relatively like-minded governors in Aspen, Colorado on Thursday.
While some NSA supporters can take some heart in polling that shows the public largely unsupportive of Edward Snowden, the data is mixed and discomforting trends are beginning to become clear.
"The public by 57-39 percent in a new ABC News/Washington Post poll also says it's more important for the government to investigate possible terrorist threats than for it to protect privacy rights," reads an ABC News release on the latest polling relating to the NSA. "[A] substantial margin, albeit the narrowest in polls since 2002."
"Only 42 percent say the programs make the country safer," the Washington Post adds. "More, 47 percent, see the programs as making little difference in the country's security. And 5 percent say they actually make the nation less safe."
The bristling defensiveness displayed by many of the NSA's supporters does not fill the public with confidence. The self-assured, moralistic crusade of the GOP's libertarian wing, aggressively pursuing the romantic ideals of individual liberty, is far more compelling. The public is on the side of those stating their commitment to national security today, but it is not difficult to envision a time when that dynamic might change. And that would truly be "dangerous."
> >Follow Noah Rothman (@NoahCRothman) on Twitter
Have a tip we should know? [email protected]