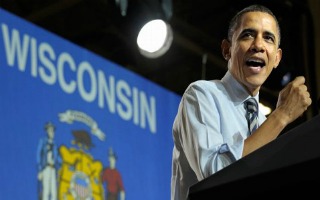 Democratic pundits are becoming increasingly resigned to the apparent fact that Wisconsin's Republican Gov. Scott Walker is likely to survive a recall effort on June 5. Some are actively asking for the White House to send either President Barack Obama or Vice President Joe Biden to Wisconsin to mobilize depressed recall supporters, but that is unlikely to happen. Progressives will take stock of what could have been in the aftermath of a failed recall effort – in doing so, many may wonder aloud why President Obama abandoned their cause.

RELATED:Mitt Romney Blames Obama Administration For Mic Problems
Walker faces Milwaukee Mayor Tom Barrett next Tuesday's recall election. The polls of the race, with the exception of Democratic pollster Celinda Lake's firm which released a poll on Wednesday that shows the race tied at 49-49 percent, all show Walker with a lead outside their respective margins of error.
As of Thursday, the Real Clear Politics average of polls of this race show Walker leading Barrett by 6.6 percent.
On Wednesday, pro-union activist and MSNBC host Ed Schultz made a passionate plea to the White House to send President Obama to Wisconsin to fire up the troops.
"They'd love to see President Obama there," said Schultz on his MSNBC program. "He goes to Newton, Iowa. He's going to be in Minneapolis on Friday. His campaign office in Chicago. It's all around, but it is in?"
Schultz continued to say that he knows Democratic committees and organizations have committed resources to the race, but he said the symbolic gesture of a high-level campaign stop is necessary at this point.
"The main man they want to see is President Obama. They want him on that line because he talked bout being on that line with them back in 2007," said Schultz. "Now it's all on the line for people who had done it for him and delivered that state back when he needed it."
Schultz ended his plea by suggesting it is the "job of a leader" to do motivate people to do that which they may not want to do on their own – like, say, come out and cast a vote for Barrett on June 5.
Schultz may be among the more prominent voices in support of organized labor calling for President Obama to rally Wisconsin's Democrats ahead of a tough fight, but he is not the only one.
Former labor secretary for President Bill Clinton and progressive pundit Robert Reich tweeted today that even if Obama does not make the trip to Wisconsin to embolden recall proponents, he should at least send working-class hero and Vice Presidnet Joe Biden:
Even if Prez can't, Joe Biden should go to Wisconsin right now to show support for unionized workers and the recall of Walker.

— Robert Reich (@RBReich) May 31, 2012
President Obama has everything to lose and nothing to gain from Wisconsin's recall. Even if Walker is removed, it would not be an indicator of the President's success in the fall–just as the implications of a Walker victory cannot be extrapolated out to November. But time, energy and funds will be spent. Democrats will mount a GOTV effort that pushes unmotivated voters out to the polls less than five months before the whole process has to be repeated for the general election.
Wisconsin's Democratic activists have put the Badger state through several elections in the last two years – when Republicans swept the state in 2010 and mounted sweeping reforms, Democrats mobilized elections to retake the state's Supreme Court and state Senate – they lost every time.
Walker's survival would be a dramatic and final failure. In the historic home of progressivism, where Robert La Follette governed and mounted his turn of the 20th Century campaigns to reframe what Americans thought the role of government should be.
Today, at the dawn of the 21st century, Wisconsin is again leading the way in reshaping American's view of the role of government – and that process being fought every step of the way.
President Obama has abandoned that fight, noting correctly that it is not likely to be won. But progressive pundits urging the White House get involved are right – this is not just another election. This is a battle for the soul of state governance.
Progressives are correct – it is a fight with broad implications that President Obama has abandoned. The question now becomes, can they forgive this betrayal ahead of a tough election in the fall?
Watch Ed Schultz appeal to Obama to come to Wisconsin:
Have a tip we should know? tips@mediaite.com