Ratigan Makes MSNBC Return to Weigh in on 2016: 'Bernie Sanders Would've Destroyed Trump'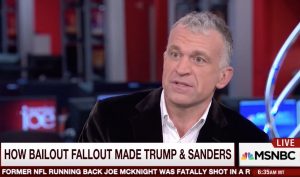 It's been over four years since Dylan Ratigan signed off MSNBC with his last broadcast, largely focusing his efforts in the years since on his sustainability project Helical Holdings. In every sense, Ratigan left behind the world of cable news to focus on doing some good for the world, but that didn't stop him from making his 30 Rock return Friday morning to discuss the 2016 election cycle.
Morning Joe played the famous "extraction" clip of Ratigan from his MSNBC days, losing his cool in a nonpartisan takedown of political bureaucracy before welcoming him back to the same set he used to frequent. "Are you still like that? asked Mika Brzezinski half-jokingly. "A little… off? Kinda crazy?"
"It's like old times," Ratigan said Friday morning, as the conversation shifted to the fact that following the financial bailout, Ratigan's rhetoric on-air was frequently used to lambast Congress and warn of impending danger.
Flash forward to 2016.
"Rules are for sale," Ratigan said, indicating that the national frustration with a broken system led to populist movements on both sides of the electoral aisle. "I think it's the reason Bernie did as well as he did and I think the reason that Trump won," he continued.
"It was clear that anti-establishment energy was building in the air and at some point something was going to happen. That it would turn out to be Donald Trump is, I think, shocking," Ratigan said, indicating that the warning signs were there several years ago.
The former host of The Dylan Ratigan Show continued his homecoming tour by calling out both political parties for their processes of nominating candidates. "We must — we must must must — ultimately do something," Ratigan urged, "to create more access for more presidential candidates to be able to run."
But when Mika Brzezinski asked him to give his take on the candidacy of Bernie Sanders, Ratigan was defiant. "I think Bernie would've destroyed Donald Trump," citing the fact that the GOP nominee was the only real anti-establishment option on the table. "I think Bernie Sanders is vastly more appealing," to those voters, indicating that the Vermont Senator would have been far more palatable for those voters looking to change the system. It wouldn't have been all of Trump's supporters, Ratigan warned, but enough to sway the outcome of the election in a different direction.
Morning Joe cohost Joe Scarborough was notably absent from the segment, which you can watch above from MSNBC.
—
[image via screengrab]
Have a tip we should know? tips@mediaite.com