'Regardless of the Specific Details…' Limbaugh Defends Trump Over 9/11 Claim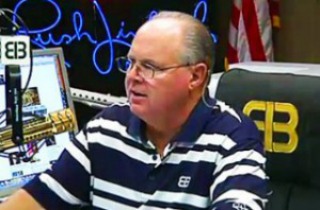 Rush Limbaugh came to Donald Trump's defense today over his claim about cheering from "thousands" in New Jersey on 9/11.
Trump said he saw video of people cheering––not overseas, mind you, but in New Jersey. However, there is no evidence that this happened. Trump tried to tout a Washington Post report with a paragraph about how some in New Jersey were allegedly celebrating, but the reporter who wrote that up said there were not "thousands or even hundreds" involved.
Limbaugh reacted today by saying the media is "out-of-touch" and "mocks" ordinary Americans. What does that have to do with the Trump fact-checking? Well, 1) Limbaugh called out the WaPo fact-checker for leaving out that aforementioned post-9/11 report out of his own report, and 2) "news is the advancement of the Democrat Party agenda."
Anyway, here's how Limbaugh defended Trump:
"And so here comes Trump saying that he saw Muslims cheer on 9/11. He adds tens of thousands there. The bottom line is that a lot of Americans are well aware that Muslims were cheering. Maybe not in New Jersey in great numbers, but around the world they were because we saw the video! On 9/11 and in the aftermath, we saw video on 'the news' of Muslims all over the world in certain places cheering. So regardless of the specific details, the American people, a lot of Trump supporters know."
Listen above, via The Rush Limbaugh Show.
[image via screengrab]
— —
Follow Josh Feldman on Twitter: @feldmaniac
Have a tip we should know? tips@mediaite.com
Josh Feldman - Senior Editor