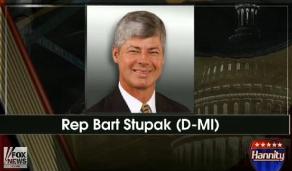 Rep. Bart Stupak, who played the role of left-wing pariah and right-wing darling during the health care debate until the 11th hour when the roles reversed, will announce today he is retiring from Congress.
Last night Fox News host Sean Hannity was in Stupak's homestate to campaign for interview Stupak's would-be opponent.
Stupak was one of the most recognizable congressmen during the entire health care debate, as his swing vote team of six to 12 pro-life congress members held up the health care vote…until he relented and, with a presidential executive order, switched sides (for which he was, or wasn't, called "baby killer). While getting attacked by both sides, it now appears he will retire instead of continue his November campaign.
His office had also released some of the hateful phone messages left by angry constituents, and tea party activists began running ads against him. How much did this new hate contribute to the decision?
Meanwhile, Hannity was in town last night, and was there to talk Stupak. As part of Hannity's "conservative victory tour," he was in Grand Rapids, Michigan along with a live audience (who booed Stupak at each mention). He talked about Stupak being "in for the fight of his political life," and Hannity interviewed a doctor who would be running against Stupak.
Hannity did discuss the "rumor and speculation" Stupak may not run. "Do you think Stupak, as a result of this controversy, is going to bail out because he doesn't want to face the voters," asked Hannity.
So far today we've seen all the morning shows talk about the story – with Stupak's announcement set to come at 12:30pmET, expect this to be the cable news story of the day.
Here's the clip from last night:


—–
» Follow Steve Krakauer on Twitter
Have a tip we should know? tips@mediaite.com