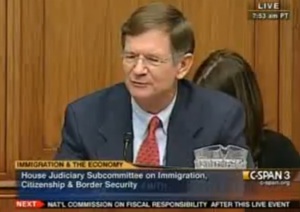 News Corp. CEO Rupert Murdoch appeared in front of a congressional sub-committee today to support the ease of allowing skilled immigrant laborers to work in the U.S. Rep. Maxine Waters (D-CA) was particularly brusque in confronting Murdoch what she deemd as a "contradiction" between the News Corp. chief and Fox News programming. But it wasn't all tough for Rupert; take for example Rep. Lamar Smith (R-TX) who went well out of his way to praise the work of Fox News.
Writing for TheBlaze, Jonathon M. Seidl reports:
Rep. Lamar Smith (R-TX) believes Fox News was getting a bad rap during an immigration hearing on Capitol Hill Thursday. So he did his best to counteract that by taking time out to reveal some favorable study results to the network's owner, and hearing witness, Rupert Murdoch.

Murdoch appeared on Capitol Hill Thursday to speak about immigration reform alongside New York City Mayor Michael Bloomberg. During Murdoch's testimony, embattled Rep. Maxine Waters (D-CA) began scolding Fox News and Murdoch for an anti-immigration stance, to which Murdoch replied, "We do not take any consistent anti-immigrant line," and added that, "We are not anti-immigrant on Fox News."

"I don't see that promoted on Fox News — talking about anchor babies and all that," Waters shot back.

Smith then stepped in with some statistics, which he wanted to be part of the record, that shows Fox has balanced coverage and that America trusts it as a news source:
As one can see at the end of the following clip, the committee chair Zoe Lofgren was not terribly amused by Smith's laudatory praise, questioning its relevance, before allowing into the hearing record. Worth noting that Lofgren gained notoriety last week for inviting Stephen Colbert to testify before another sub-committee hearings. While one may question her judgment, she sure knows how to make her sub-committee hearings entertaining!
Have a tip we should know? tips@mediaite.com
Colby Hall - Founding Editor