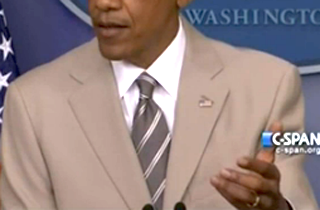 The overload of coverage over Barack Obama's tan suit has led to some unexpected consequences: Rep. Peter King (R-NY), called into The Steve Malzberg Show to rage about how "trivial" the summer suit was.
Summer suits, according to Rep. King, are not appropriate garb for talking about terrorism or ISIS, and especially when the President says he doesn't have a strategy to deal with the resurgence of terrorism.
"For him to walk out — I'm not trying to be trivial here — in a light suit, light tan suit, saying that first he wants to talk about what most Americans care about the revision of second quarter numbers on the economy," he seethed. "This is a week after Jim Foley was beheaded and he's trying to act like real Americans care about the economy, not about ISIS and not about terrorism. And then he goes on to say he has no strategy."
Maybe we, the media, have covered the tan suit too much. Maybe the joke has spiraled out of control on Twitter. Maybe, by talking about Obama's horrendous sartorial choices, we inadvertently turned it into a commentary of his character, much like Gerald Ford became notorious for falling over things, or George W. Bush was inexplicably tied with his penchant for making up words.
Nah. Let's write more bad suit puns.
Watch below via NewsMax:

UPDATE: Watch him talk about the tan suit on CNN, below:
[h/t BuzzFeed]
[Image via screenshot]
—
>> Follow Tina Nguyen (@Tina_Nguyen) on Twitter
Have a tip we should know? tips@mediaite.com