Rep. Ron Paul Zings Gov. Rick Perry Over Bernanke Comment: 'He Makes Me Look Like A Moderate!'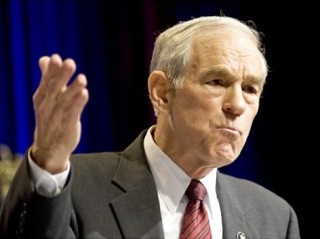 Texas Congressman Ron Paul can't remember Texas Governor Rick Perry's name. In what is shaping up to be the most contentious intrastate Republican presidential clash since Tim Pawlenty and Rep. Michele Bachmann duked it out at last week's debate, GOP frontrunner Rep. Paul mocked his governor in front of a crowd in New Hampshire today, noting that, despite his years of railing against the Federal Reserve, he had "never once suggested Bernanke committed treason," like a certain "Southern governor."
Rep. Paul, of course, was referencing the the comment Perry made this week against Federal Reserve Chairman Ben Bernanke, in which he said Texans would "treat him pretty ugly" for his monetary policy and called it borderline "treasonous." Many perceived this as Perry making an attempt to court Rep. Paul's supporters, as the latter had been the leading voice for auditing Bernanke and the Federal Reserve for years. In Concord campaigning this evening, Rep. Paul made clear that whatever Perry was trying to say, it had nothing to do with him. Reports CNN:
He also took the opportunity to poke fun at Texas Gov. Rick Perry, who came under fire this week when he suggested Federal Reserve Chair Ben Bernanke could be committing treason if he printed more money before the 2012 elections.

"Now we have a Southern governor, I can't remember his name," Paul said to raucous applause. "He makes me look like a moderate. I have never once suggested Bernanke committed treason."
Rep. Paul also reported went through a number of topics, telling the audience that he was happy some in the media had recognized that he had been widely ignored and suggesting the mainstream television media isn't "as relevant as they think they are."
Perry already proved today that he isn't one to keep quiet when attacked, even lightly as the President did yesterday, so Rep. Paul should be expecting a swift retort to his reportedly mirthful insolence today. Whenever it is scheduled for, the next Republican presidential debate is already shaping up to be quite the show.
Have a tip we should know? tips@mediaite.com