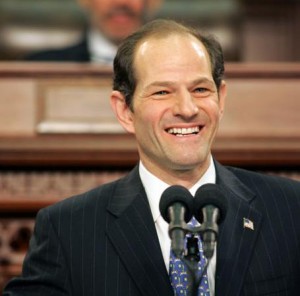 Things aren't going so well for Eliot Spitzer. His CNN talk show, Parker Spitzer, is tanking; a tell-all documentary about his rise and fall is hitting theaters; and a woman who calls herself the "Manhattan Madam" is gabbing to gossip sites about how boring he is. Now, to add insult to injury, Ken Lovett at the New York Post reports that Spitzer has been rejected from New York City's branch of the Harvard Club.
The Harvard Club offers membership to alumni, as well as current or former faculty members and others who have ties to the university. As a graduate of Harvard Law, Spitzer should have been a shoo-in. There was, however, one fly in the ointment: that pesky prostitution scandal, which prompted him to resign from his position as New York's governor in 2008. Reportedly, the admissions committee rejected Spitzer because they didn't want to be associated with his disgraced exit from politics.
Sewell Chan and Nicholas Confessore at the New York Times explain a little more about how the club works:
Rejections are exceedingly rare, the two members said. The club, which has about 11,000 members, admits nearly everyone eligible who applies, and indeed, it offers steep discounts to lure young alumni and for a time suspended the requirement that applicants submit letters of recommendation. (An interview is still required.) Annual dues range from $90 to $1,502, depending on the member's age and place of residence; Harvard faculty members and officers also receive discounts.
A spokeswoman for Spitzer, Lisa Linden, called the ex-governor's rejection "obviously disappointing" in a statement. She also noted that while the Harvard Club may not want Spitzer, Harvard itself doesn't seem to have a problem with him: Last year, Harvard asked Eliot to speak on ethics at the school. He supports the institution financially. It would seem that whoever made this decision at the club is not on the same page as the university itself." She wouldn't say whether her boss would apply for membership again.
Thankfully, Spitzer is already a member of New York's Princeton Club—so he'll have a swanky place to brood about being spurned by the Crimson. Read more about the rejection at the Post or the Times.
Have a tip we should know? tips@mediaite.com