Report: Gov. Rick Perry And Trump Have Spoken By Phone On 'Several Occasions'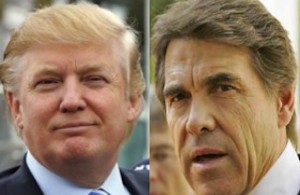 Though Donald Trump announced that he would not be running for president a few months ago, he has continued to make the sort of comments that have kept him in the political sphere (and brought him the public attention he craves.) For reasons that aren't necessarily clear to everyone, there are some who believe that Trump's political insight is worth heeding, and one such individual is GOP frontrunner and current Texas Governor Rick Perry.

OMG, Perry and Trump are quickly becoming BFFs over the phone! According to Politico's James Hohmann:
Rick Perry has been speaking with Donald Trump by phone since wading into the presidential race, a Trump representative told Morning Score. Michael Cohen, the New York businessman's special counsel, said the Texas governor has called on "several occasions." Someone else familiar with the dialogue said Perry has spoken to Trump three times, adding that Perry's daughter got on the phone during a recent chat. Perry spokesman Mark Miner said he would not discuss "the Governor's private conversations."
Hohmann goes on to rightly point out that, despite its face-value absurdity, an endorsement from Trump will likely have an impact on the GOP primary, which is odd since many believe Trump to be nothing of a publicity-craving showman. The fact that Perry seeks his good favor may be politically expedient in the short term, but there are just as many who would consider Perry's taking Trump seriously as a flaw in his judgment.
To be fair, Perry isn't alone in taking Trump seriously; the hosts at Fox and Friends seriously posited the absurd notion that Trump might make a good Treasury Secretary in another administration. If past is in fact prologue, a Trump managed federal reserve could very well end up filing for bankruptcy or seeking a bailout, just has many of his own businesses have done in the past.
In an interview earlier this month, Trump revealed to ABC News' George Stephanopoulos why he was a fan of the Texas Governor, and why he wasn't so high on Mitt Romney, which you can watch below, courtesy of ABC.
Have a tip we should know? tips@mediaite.com