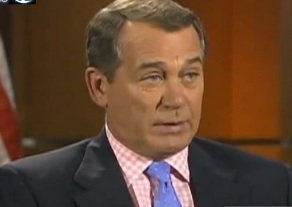 Well, here's an interesting twist of events: Russell Berman of The Hill is reporting that despite claims to the contrary, House Minority Leader John Boehner often votes with Democratic Speaker Nancy Pelosi—52 percent of the time, to be exact.
As Berman explains, "The data come from a Democratic leadership review of the 565 roll call votes in the House from January through the end of September, when Congress left Washington for the campaign trail. Since the Speaker herself rarely votes, the comparison is made using the recommended vote of the party leadership."

And Boehner's not alone. The analysis also reveals that Republicans like Rep. Mike Pence, Rep. Eric Cantor, and Rep. Pete Sessions also vote with Pelosi more often than they vote against her—Pence voted with the Speaker 52 percent of the time, while Cantor and Sessions both voted with Pelosi 57 percent of the time.
Most surprising of all? Arch conservative Michele Bachmann, who has made no secret of her dissatisfaction with the Obama administration and Democrats in general, also aligned herself with Pelosi a relatively whopping 58 percent of the time.
So why is this important? Because many Republican campaigns are running attack ads that focus in part on how often an incumbent Democrat votes with Pelosi. Here's an example, from Berman:
In Alabama's 2nd district, the National Republican Congressional Committee attacks Democratic Rep. Bobby Bright in radio and television ads for voting "with Pelosi 70 percent of the time" since 2009. In Idaho's 1st district, Republican Raul Labrador's ad criticizes Rep. Walt Minnick (D) for voting "with Obama/Pelosi over 70 percent." Bright and Minnick of two of the most conservative Democrats in the House who opposed their party's major agenda items.

The percentage appears high, but when Bright and Minnick are compared with the conservative Bachmann, the difference is only a few dozen votes. And compared with more centrist Republicans like Reps. Tim Murphy (Pa. – 66 percent with Pelosi) and Charlie Dent (Pa. – 65 percent), the disparity is even smaller.
Republicans have already responded to these findings; predictably, they've been dismissive. As Paul Lindsay, committee spokesman from the NRCC, said, "It's necessary to question any numbers coming from the same party that predicted their trillion dollar stimulus bill would keep unemployment below 8 percent … The fact that House Democrat staffers spent their time compiling this nonsense is further proof of why their party has failed to address the economic crisis facing American families, and why voters are determined to send them packing in November."
But Doug Thornell, spokesman for Democratic Rep. Chris Van Hollen, had a response to Lindsay's response: "Gosh, I wonder what the Tea Party would think if they knew House Republican leaders vote with Speaker Pelosi most of the time. This analysis just shows how big of a joke the GOP argument against Democrats is."
You can read Berman's analysis in its entirety here.
[h/t The Awl]
Have a tip we should know? tips@mediaite.com