Giuliani Addresses "No Domestic Attacks" Comment; Gibbs, Stephanopoulos Respond
At today's White House briefing, Huffington Post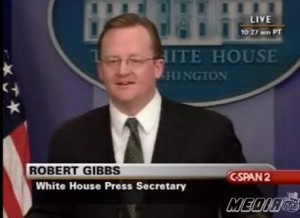 's Sam Stein asked Robert Gibbs about Rudy Giuliani's remarks on ABC's Good Morning America. Gibbs succeeded where George Stephanopoulos failed, calling Rudy out for his inconsistent statements on civilian justice for terrorists, and observing that much of what Hizzoner said didn't "quite gibe with reality." You might say he took Giuliani to Schooliani.
Update: Stephanopoulos and Giuliani respond.
Here's the video of Gibbs' exchange with Sam:
Here's the quote Gibbs is looking for on the Moussaui trial:
Justice was done. Sure. I mean, this is the system that we have for justice. It was a trial. It seemed like it was a fair trial. I think the judge was fair. I think the jurors were fair. It's just not the result that I would have come to.

…I would have preferred to see the death penalty, but I kind of stand in awe of how our legal system works that it can come to a result like this. It has to say something about us to the rest of the world.
Giuliani also seems to contradict himself in the interview, alternately saying that military justice allows you to interrogate a prisoner "endlessly," while also allowing you to get the information "timely." By all accounts, the Underwear Bomber wouldn't shut up when he was taken into custody, and counterterrorism czar John Brennan said last night that the FBI was satisfied they had learned what they needed to before the bomber lawyered up.
Maybe Robert Gibbs should get his own political interview show.
Update: Stephanopoulos posted a mea culpa on his blog, along with a response from a Giuliani spokesman:
The Mayor's spokesman says that the remark "didn't come across as it was intended" and that Giuliani was "clearly talking post-9/11 with regards to Islamic terrorist attacks on our soil."

Whatever the Mayor meant, it's not what he said.  All of you who have pointed out that I should have pressed him on that misstatement in the moment are right.  My mistake, my responsibility.
It's good of George to admit responsibility, although even if you grant the Mayor's ridiculous revision, it's still not accurate. There were several attacks after 9/11, but during the Bush administration, like the Shoe Bomber, the DC Sniper, and the anthrax attacks.
> Update 2: Here's Giuliani addressing his original comment on CNN:


Have a tip we should know? [email protected]