Fox News Chief Roger Ailes: Jon Stewart Is 'Crazy' And NPR Executives Are 'Nazis'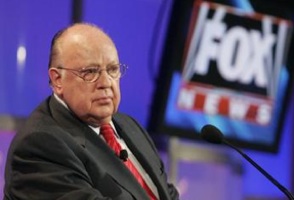 Part Two of Howard Kurtz's interview with Fox News chief Roger Ailes is out today, and based on his frank and candid assessment of Jon Stewart, NPR, and his defense of conservative bias, no one should ever call Mr. Ailes a shrinking violet.
His provocative comments are sure to raise eyebrows, but the enlightening Q & A could just as easily be read as a plain-spoken conversation in which one of the most powerful media figures of the day isn't afraid to shoot from the hip.
You should definitely check out the must-read interview in all its detailed glory, but there are two big takeaways.
On Jon Stewart, Ailes opines that The Daily Show host is "smart" but that the media-critic/comedian makes a lot of hay out of conservatives. Oh, and he also says:
"He's crazy. If it wasn't polarized, he couldn't make a living. He makes a living by attacking conservatives and stirring up a liberal base against it."

I tried to interrupt.

"He loves polarization. He depends on it. If liberals and conservatives are all getting along, how good would that show be? It'd be a bomb."
On NPR executive's decision to fire Juan Williams:
Then he turned his sights on NPR executives.

"They are, of course, Nazis. They have a kind of Nazi attitude. They are the left wing of Nazism. These guys don't want any other point of view. They don't even feel guilty using tax dollars to spout their propaganda. They are basically Air America with government funding to keep them alive."

It's hardly surprising that Ailes would defend Williams or castigate NPR. But trotting out such Third Reich rhetoric seems, shall we say, disproportionate to the situation. NPR spokeswoman Anna Christopher says only that "we will let Mr. Ailes' words speak for themselves."
Read the entire article at The Daily Beast.
Have a tip we should know? tips@mediaite.com