Romney Spokesman Richard Grenell Resigns Following Backlash For Being Openly Gay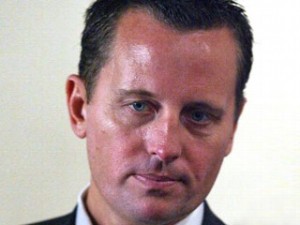 Richard Grenell, Mitt Romney's foreign policy and national security spokesman, has received backlash for being openly gay — as has Romney, for hiring him. The Washington Post's Jennifer Rubin is now reporting that Grenell has resigned.
RELATED: Social Conservative Activist Attacks Romney's Hiring Gay Spokesman: Telling 'Pro-Family Community' To 'Drop Dead'
Said Grenell, in a statement obtained by Right Turn (via Washington Post):
I have decided to resign from the Romney campaign as the Foreign Policy and National Security Spokesman. While I welcomed the challenge to confront President Obama's foreign policy failures and weak leadership on the world stage, my ability to speak clearly and forcefully on the issues has been greatly diminished by the hyper-partisan discussion of personal issues that sometimes comes from a presidential campaign. I want to thank Governor Romney for his belief in me and my abilities and his clear message to me that being openly gay was a non-issue for him and his team.
The Romney campaign responded, via campaign manager Matt Rhoades: "We are disappointed that Ric decided to resign from the campaign for his own personal reasons. We wanted him to stay because he had superior qualifications for the position he was hired to fill."
Among his critics was Bryan Fischer of the American Family Association, who said Romney's hiring an openly gay spokesman was like telling the "pro-family community" to "drop dead." Another example, as the Washington Post points out, is Matthew J. Franck, who wrote in the National Review last week:
"Suppose Barack Obama comes out — as Grenell wishes he would — in favor of same-sex marriage in his acceptance speech at the Democratic National Convention. How fast and how publicly will Richard Grenell decamp from Romney to Obama?"
Grenell also faced a bit of unrelated controversy after he deleted nearly 1,000 tweets — which targeted figures including Rachel Maddow, Hillary Clinton, Michelle Obama and Newt and Callista Gingrich.
UPDATE: Rubin additionally reported that the Romney campaign tried to convince Grenell not to resign:
Right Turn has learned from multiple sources that the senior officials from the Romney campaign and respected Republicans not on the campaign contacted Ric Grenell over the weekend in an attempt to persuade him not to leave the campaign. Those were unsuccessful. During the two weeks after Grenell's hiring was announced the Romney campaign did not put Grenell out to comment on national security matters and did not use him on a press foreign policy conference call. Despite the controversy in new media and in conservative circles, there was no public statement of support for Grenell by the campaign and no supportive social conservatives were enlisted to calm the waters. Beyond his statement, Grenell has declined further comment today.
(H/T Washington Post)
Have a tip we should know? tips@mediaite.com