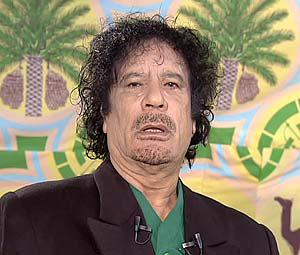 Need to know just how connected the uprising in various North African countries are tied to the U.S. economy? Oil prices dropped sharply today amid unconfirmed rumors that Libyan leader Muammar Gaddafi had been shot and killed. Prices came back shortly after Saudi Arabia had assured Western markets that it could fill any Libyan supply shortfalls brought about by Gaddafi's presumed death, but it appears to be a false rumor.
Reuter's report however that rumors are not true:
The U.S. government has no reason to believe that Libyan leader Colonel Muammar Gaddafi is dead, a U.S. official said on Thursday after oil traders cited a rumor that Gaddafi had been shot as pushing down oil prices.

Asked if Washington had reason to believe that Gaddafi, who is seeking to crush protests against his 41-year rule in the oil-exporting North African nation, was dead, the U.S. official, speaking on condition of anonymity, said: "No."
Gaddafi appears to have thus far survived the upheaval, but if the situation in Libya is in any way like the situation that recently unfolded in Libya, it may just be a matter of time. Earlier today we reported that Gaddafi had blamed the uprising in Libya on Osama bin Laden before adding that it up to the Libyan people to stop fighting among themselves and to cease "taking hallucinogenic drugs."
But as far as we know right now, Gaddafi is still alive.
Watch the report from Fox News below:
Have a tip we should know? tips@mediaite.com