Rupert Murdoch Reportedly Thinks Fox News Execs Acted Like 'P*ssies' by Caving to Ingraham Outcry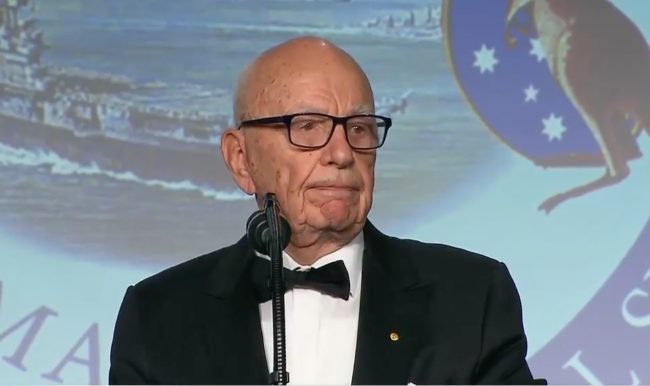 A new report indicates that Fox News re-affirmed their support for Laura Ingraham this week because media mogul Rupert Murdoch commanded his network executives defend her more forcefully.
The Fox opinion host is still on what the network says was a pre-planned vacation this week, which began while she was still facing major backlash over her personal mockery of David Hogg. Vanity Fair's Gabriel Sherman says the incident was a major headache for the network — with sources saying "people are pulling their hair out" in the advertising department, and that executives reportedly adding, "you don't attack a kid."
However, sources say Murdoch wanted Fox to stand strong with Ingraham and make a point that "the haters wouldn't get a scalp" despite the outrage. The mogul emailed this directive to Jack Abernethy, which apparently prompted the Fox News co-president to put his name on the network's recent statement of support for the conservative pundit.
From the piece:
Sources say Murdoch has told people that Fox's current management has been too quick to cave to the network's many critics. "Rupert's been annoyed by what he perceives as cowardly behavior by his executives," one person close to Murdoch told me. "He thinks they're being pussies." In February, Murdoch was unhappy that Fox retracted an offensive column, by Fox veteran John Moody, mocking U.S. Olympic officials for emphasizing the team's diversity.
In a separate but somewhat related note, Geraldo Rivera recently said Ingraham was in the wrong with her slam against Hogg, though he reversed course after Fox seemed to indirectly scold him with a public statement.
[Image via screengrab]
— —
>> Follow Ken Meyer (@KenMeyer91) on Twitter
Have a tip we should know? tips@mediaite.com