Rush Limbaugh Bashes NBC For Handling Of GOP Debate, Asks Brian Williams 'How Do You Sleep At Night?'
Rush Limbaugh Bashes NBC/Brian Williams For Handling Of GOP Debate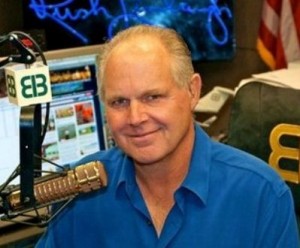 Reacting to last night's Republican debate on MSNBC, Rush Limbaugh went after moderator Brian Williams for his question to Rick Perry about executions in Texas and then launched into an attack on NBC's partisan bias.
Limbaugh prefaced his remarks by referring to Williams as a funny person and "good friend," but then asked Williams how he could sleep at night working for a network that, as Limbaugh argues, has supported President Obama's policies over the last few years. Limbaugh claimed that during the debate, NBC did everything in its power to "protect Obama."
Limbaugh then played an audio montage of the debate questions asked, ranging from issues like immigration to "anti-science" candidates when, as Rush stated, the economy is the number one issue for people right now. He expressed his frustration at the way some of the network's hosts were framing the debate.
I don't care what they say at MSNBC. That's the whole point. These people have lost their sanity a lot time ago. They're poison. They have descended into nothing but full-throated hate. They are supporting, whether they know it or not, policies that are causing people to lose their jobs, lose their homes, lose their faith in their country. You've got a network that's supporting this, I don't care what they say or think.
Newt Gingrich's response to a moderator's question last night garnered Limbaugh's praise. Rush agreed that candidates at a debate should be going after each other, but to him it felt like the moderators were "keep[ing] Obama out of range."
Finally, Limbaugh addressed President Obama's speech to Congress tonight, and he highlighted several instances of Democrats expressing their frustration with the president for blaming Congress on inaction on unemployment. He preemptively bashed the president's "campaign speech," calling it a "stupid, irrelevant, more-of-the-same jobs plan."
Listen to Limbaugh's remarks below:
Have a tip we should know? tips@mediaite.com
Josh Feldman - Senior Editor