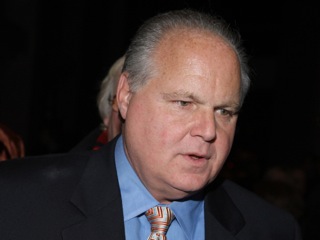 Rush Limbaugh spent a portion of his program today celebrating a victory in the so-called "War on Women," as a CBS/New York Times poll released today show what he says Democrats are trying hardest to hide: Mitt Romney is actually quite popular among women. "Things are falling apart for Obama," he noted today, explaining that after all the attempts to say women are "miserable" and "oppressed," the polls they "live and die for" are turning their backs on the party. How does he know this one poll is the one speaking truths? "The 'Rush Babes For America' Facebook group has almost 200,000 friends!"

RELATED: Rush Limbaugh: "1965?s A Great Year, Bullying Was Legal"
The numbers, he argued, would "remind you just how bad things are for Obama… if you dig deep." The polls were not surprising to Limbaugh, but certainly pleasing "after the contrived Sandra Fluke thing… [after making] Obama look like the first gay President, first female President, first Jewish President." He then explained liberal philosophy:
They look at America [and] they see groups of people: they see victims, they see oppressed millions, they don't see people living free prosperous lives with ambition and desire. They don't see happiness and contentment. They see people in misery; they see people in poverty; they see people being discriminated against… those are the people they're gunning for in the campaign.
But, he concluded, "one of the groups they have attempted to make miserable," women, has failed entirely, as the poll proves. Given that liberals, he explains, "use polls to shape the news," the fact that they want to bury this one is quite telling.
The full segment from today's show below:

Have a tip we should know? tips@mediaite.com